In this blog post I discuss why most social media engagement strategies are likely to fail, unless we drastically change our approach.
I have always believed that SMART metrics with a BANG are a good start for an organization to assess whether social media can be useful. Moreover, a social media baseline assessment can help ensure that staff are on the right track to better client engagement.
In a recent non-random test I found that, while most brands want people to engage on Facebook, less than 20 percent give them a good reason to click the Like button and become a fan. Worse, their many updates make it harder for anyone following more than five brands (i.e. most of us) to find friends' updates on their Facebook wall. Not a good way to engage, is it?
Does better customer engagement only work in theory or is engagement simply an obsolete concept?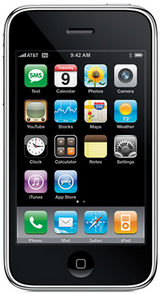 For starters, we all have difficulty seeing the trees for the forest: we are inundated with digi-minimalism and noise from Twitter, Facebook, TV, radio and freesheets (free newspapers). Dinosaurs like me and those who want better quality content pay for a print subscription, as well as the digital version.
Then there are work-related mails, personal social media posts we get during the work-day on our private mobile and so forth. For some, the daily commute has become the time to answer messages on their mobile devices.
I recently got a tweet from @NickyKriel asking why I sent the same tweet from three different accounts. She was absolutely right to call me on my attempt to reach people in different timezones.
Action taken: I have started tweeting things once only to save everybody time. Naturally, I am aware that others in different timezones will miss it because it will not flicker across their screens before their eyes (e.g., tweeting at midnight to get the Californians versus at five am GMT to get Europeans during their daily work commute).
2. People focus on their closest network
Forget about regularly networking with 150 people. Focus on calling, texting, tweeting and/or emailing with the five to eight people in your life that are really important, such as your partner, children, friends… If you add business people, you might have another ten. That adds up to lots of calls, texts or chats – and that's without getting your job done!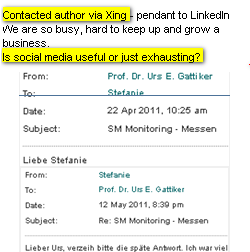 Plus, being connected to someone on Facebook, LinkedIn or Xing does not mean you get an answer quickly. There are simply too many requests to take care of considering the several hundred people we connect with across these networks.
Action taken: I am working on strengthening my important private and business ties – only about ten each – thereby spending less time on the rest. I also cut my LinkedIn and Xing group memberships down even more so I can take the time needed to build and maintain my social capital. I have also started un-Liking most brands in favor of staying on top of friends' updates.
Sign up with your email to get our latest trend setting blog posts first:
3. Corporate pages and blogs are less useful than we hope
Another way to address the time and effectiveness issue is to question the merit of blog posting and webpage updates: posting better quality material less often might be worth more. Answering comments quickly rather than not at all might also be a result of this change in strategy. Agreed?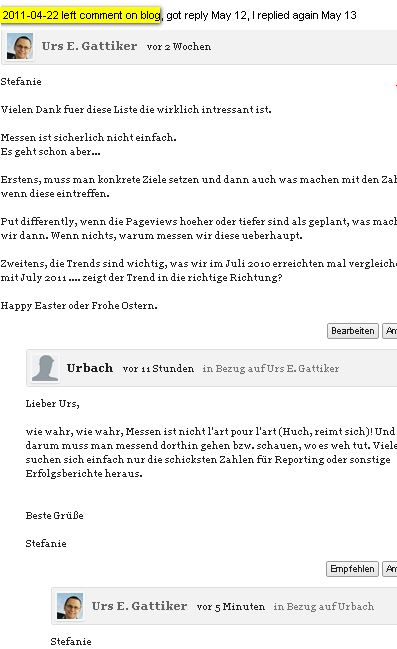 Note: The above exchange concerns successful measurement of metrics – both how and what.
Action taken: I went back to posting to our blog just once a week, alternating from early Sunday evening in California (early Monday morning in Europe) and early Wednesday evening in California (early Thursday morning in Europe), and sometimes adding a mid-week post. Fewer postings means less – but hopefully more insightful – material for my readers…
Tip: You can get more insightful posts from us about customer engagement, customer relationship management and benchmarking by adding ComMetrics to your search query.
Bottom line and take-aways
I disagree with those who believe that making an impact with just one daily tweet is impossible – quality over quantity! This becomes increasingly important as we spread ourselves too thinly across too many social networks.
We want to be in re-selling, not sales, making cultivating my best social media hub more effectively to engage my current clients better increasingly important.
More resources
As always, the comments are yours!
How we help
CyTRAP Labs helps NGOs, non-profits and brands engage their target audience through social media by assisting with development of an effective social media strategy and mentoring through the implementation process, conducting social media audits and supporting your efforts regarding corrective actions and improvements.
Start a conversation! Email us at info [at] CyTRAP [dot] eu or call us at +41 (0)44-272-1876.
And now, after you provide Heineken with your age and location…. you can view this video from Desperados, a French-brewed pale lager flavored with tequila.
Moreover, if you give them access to your Facebook profile, towards the end of the video your you will see your Facebook profile picture on the shoulder of a woman or a man (depending on if you chose to party with women or men at the beginning).
Is this engagement? If you claim it is a video well done that leverages your Facebook profile to personalize the experience further, I agree. Fun to watch – maybe for some of us but… will you begin to or simply purchase more beer of the Desperados kind because you saw this video? I doubt it. You be the judge, see for yourself: