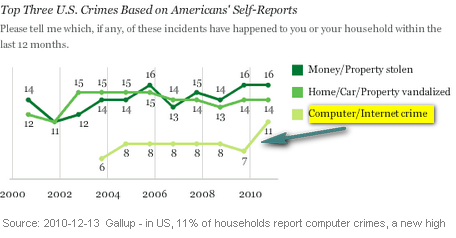 While the majority of people in most countries are wishing each other a happy and safe holiday, a recent Gallup poll in the US suggests that self-reported computer and Internet crime has increased markedly during 2010 – just a reminder that things are not as safe as we might have hoped this season.
Article source: ComMetrics weekly review: Stay safe and share the moment

Still, it should be noted that while a certain increase is to be expected as more people get online, it is also possible that rates based on self-reporting may partly have increased due to improved understanding of what exactly constitutes computer/Internet crime.
Further, Gallup's question regarding computer/Internet crime is distressingly vague: "You or another household member was the victim of computer/Internet crime, such as fraud or computer hacking, while using your home computer."
Is only the legal definition of fraud used here, and if so, was that made clear to respondents? Does computer hacking include getting spyware, viruses or other malware on your computer? And finally, what else does the term 'computer/Internet crime' include?
Based on these issues, we believe the Gallup poll fails to measure up to generally-accepted good survey design – an almost unheard-of occurrence with this organization. It also perfectly illustrates issues of questionable validity found in many research reports that we come across.
So while we wish you a safe and happy holiday season, we also take the advice of Sergeant Phil Esterhaus of Hill Street Blues (1981) to heart: "Hey, let's be careful out there." Heaven forbid we act on questionable information!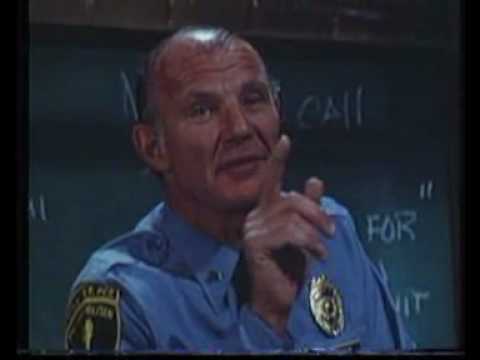 In these days when markets go bang or bust at the drop of a hat, we have no idea what the price of gold or the dollar will be next year, but here is a chart I came across and thought was worth sharing.
Of course, make sure you manage the risks properly, partly by conducting a careful risk assessment. Along with better governance, this should make dealing with 2011's ups and downs, knowns and unknowns easier on your investment portfolio.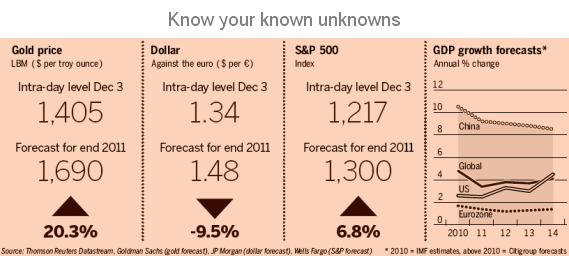 Will social networking sustain its momentum?
A recent study by PEW Research indicates that German and Japanese users stand out among highly connected people for their comparatively low levels of participation in social networking.
While 31 percent of Germans use these sites, a further 49 percent go online, but choose not to use social netowrking at all. In Japan, 24 percent are engaged in social networking, while a further 44 percent have internet access, but do not engage.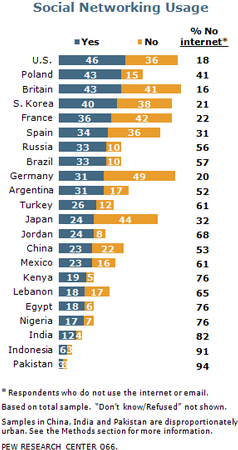 Among the 22 countries polled, social networking is least prevalent in Indonesia (6 percent) and Pakistan (3 percent), but more than 90 percent of the population in both nations is also not online.
The study also reveals that all 22 countries reveal a notable increase in usage among people under the age of 30. In fact, in 12 of the 22 countries polled, the majority of users are under 30. Britain, Poland and the US are the only three countries in which the majority of 30- to 49-year-olds who go online are involved in social networking.
Further, the data indicate that no more than one-quarter of those aged 50 and older are involved in social networking, regardless of country and each country still reveals a gender gap in Internet-usage rates, though it can be quite small.
Check out this interesting study (informative press release with charts or full report as pdf):
If you like this post, please share it with your friends. How about asking them to comment after reading; I love to hear what people think!
Are you with me on these computer/Internet security matters and social networking issues, or have I lost my marbles? Will people continue to use social networks, but fail to take the time to participate by contributing to groups in which they are members?
Will active participation in social networks, including contributing to discussion threads and with posts continue to grow, or will that trend simply taper off next year? What do you think? Please leave a comment; the floor is yours!
And since this is our 2nd last post before the new year, we would like to wish you and your family a safe and happy holiday!