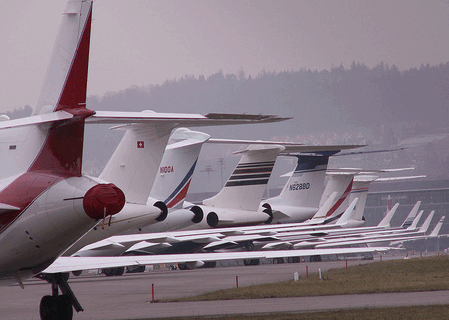 Is the World Economic Forum (WEF) at Davos, Switzerland the game-changer its organizers and (maybe) delegates hope it to be? Only the future will give us the answer but we can try to understand things a bit better.
Amid economic gloom, political input is seen as key at WEF Davos. But while everybody and their neighbour seems worried about rebuilding trust and confidence, apparently some business leaders are willing to take calculated commercial decisions rather than acknowledge their guilt, let alone show signs of remorse.
Some have also argued that maybe getting rid of the corporate jets parked by the elite on their way to Davos would be a good way to help the world's poor, as well as encourage more good governance and less corruption.
We have kept you informed about what happens in Davos in postings such as:
If one listens to the business, political and other luminaries attending Davos, the crisis seems to heat up as the world is ever more divided by several issues, including how to go about finding a solution to the financial meltdown. We have tried to capture some tweets that demonstrate the seriousness of the problem.
WEFdavos

1 THOUGHTS @Stephditta ➡more financial hand-outs won't help #protectionism ➡waiting to exploit economic weaknesses #WEF #Davos #trends2watch…


WEFdavos

2 THOUGHTS @ismurray➡politicans zeal for infrastructure proj➡BUT public finances in meltdown & trade imbal. http://bit.ly/rx2R #wef #davos


WEFdavos

3 THOUGHTS @JayWayland @scoblelite➡sessions #WEF #Davos show ➡consensus melts as financial #crisis heats up➡need for action but WHAT #Gaza
WEFdavos

4 Thoughts @benoitoctave #Davos pain a new force for global unity? ➡replacing private-sector with public-sector debt➡this gonna work? #WEF


WEFdavos

5 THOUGHTS multipolar world➡ less infl for West➡ #WEF should find new structure of global governance during #davos ➡to reflect power redistribut
But talk is usually cheaper than being practical and concrete. It starts with each delegate's own "Davos attendance carbon footprint":
tim_weber #davos: one chief executive says: I refused to take helicopter here from Zurich airport – out of principle and because it doesn't look good
WEFdavos Al Gore talking ➡reduce carbon,do more R&D in renewable energies, conversation,etc ➡quest.how did he travel #Davos #wef ➡http://ad.vu/xt5u
Even journalists like the Telegraph's own William Lewis chose a limousine over taking the train (no, you do not save time driving). There's a reason "actions speak louder than words" is a cliché; it is true and also goes for journalists.
When things get tough, some choose to speak at length, while others are cut off without a chance at a response or rebuttal. The picture below says it all. When things get tough, the tough go shopping, but in this case, Mr. Erdogan left and later gave a press conference explaining why he was unhappy.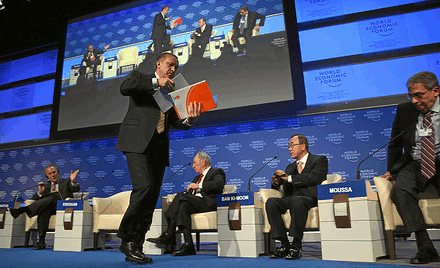 While the financial crisis is at the top of the agenda in Davos, some of the more technically-minded attended sessions about new technologies, innovation, entrepreneurship and so forth. Here too, the tweets show that some are disillusioned, at least a bit.
scobleizer @dmschulman there are very few postiive things I've been seeing in #Davos this year. Very few answers on how to dig out of economic hole.


tim_weber #Davos so did we find the holy grail, of restoring trust in corporations? Nope. Lots of good intentions, but no sorrys, solutions
WEFdavos Ban Ki-Moon #Davos ➡uses the Davos jargon http://ad.vu/z545 adds new things fight corruption,poverty to restore trust & confidence #wef
Since the turmoil of last September, calls for better coordination of the response to the crisis have abounded. In this sense dialogue at a forum like WEF, which provides an international stage, appears more relevant than ever and new initiatives were proposed, such as:
WEFdavos

#WEF #Davos Why We Need a New System Klaus Schwarz announces NEW initative leaders= 3 governments – Switz, Singapore & Katar


WEFdavos

#WEF #Davos Why We Need a New System NEW initative will announce its findings in 2010 in Doha and Davos SG,CH,QAT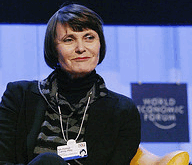 WEFdavos Micheline Calmy-Rey Swiss Federal Councillor outlined the tough agenda for the new initiative for the three co-sponsors SG,CH,QAT with #WEF #davos
Other sessions indicate that much needs to be done to address climate change, including one which focused on issues and strategies to be addressed during the upcoming Copenhagen Climate Conference in March 2009:
WEFdavos

#WEF #Davos Rising to the Challenge of Copenhagen SESSION Anders Fogh Rasmussen, starts tough we need targets, funds, & verifications


WEFdavos

Anders Fogh Rasmussen Copenhagen ➡targets (long-term goal reduces emissions by 50% by 2050), funds (worldwide), & points of verifications


WEFdavos

Rasmussen says its essential for Copenhagen to come up and agree to clear targets➡pre-requisite to create a private market


WEFdavos

Yvo de Boer Shell ➡global framework needs signature day 1➡China,US, INdia,Indonesia,Brazil➡submit to targets,big countries must join club #WEF #Davos
Bottom line
This is usually the time of year when the Davos Big-Wig – the banker who made a fortune in the last decade – gets to strut his or her stuff, but this year things have been different. The credit crisis has ruined reputations from Wall Street to the City of London to the gnomes in Zurich. In fact, power has shifted from business to politicians since the latter seem to be the ones who have to supply business with the funds to pay the bills at the end of the month. The credit crisis has turned out to be bankers' own Hurricane Katrina and businesses must restore public confidence in their ethics and competence as quickly as possible. The alternative is too unpleasant to contemplate.
Still, the more things change the more they stay the same. The Davos hierarchy seems to be much the same as ever and where one's hotel room is located indicates quite bluntly how high one is on the totem pole of power. No exceptions, not even for exalted personages like Niall Ferguson.
No great change in global economic and financial policies is likely to result from the World Economic Forum. This is especially true since, as organizing body, WEF has no formal supranational powers. Calls for better co-ordination of the response to the crisis have abounded but what we need are solutions. So far I cannot see Davos giving us much.
=========>
Here's what I'm suggesting for today. What is your take as a participant in the World Economic Forum? Join the discussion, leave your comment(s).
And if you want the real story, follow WEFdavos to get the scoop. Thanks for your support.
=========>