This post was inspired by
NikkiPilkington and her post How I Use Twitter. I have addressed some of these issues in my post
Here I discuss and share with you some of the hard lessons I learned through my use of Twitter. Ceteris paribus, or all other things being equal, I did learn five lessons as outlined below.
Step 1 – Who: Your viewpoint and target audience matter
The biggest decision to make was how I wanted to use Twitter. For instance, the content: what you say and how you go about it might differ if you do it as
– a private individual (e.g.,  biohelixx),
– a self-employed consultant (e.g.,  stoweboyd),
– an employee (CEO, professional, journalist, analyst, etc.) (e.g., BobJeffreyJWT)
– corporate PR expert – (e.g.,

sheilaparry)
– an entrepreneur with your own start-up (e.g., calvinwuchin), or
– tweeting for a corporate Twitter account (e.g., attentio).
Whatever you choose, microblogging as a private person is very different than doing so as a representative of a brand. But then things become less clear. For instance, you may use Twitter and tweet about your work, write about your employer and developments or trends in your profession. A great example of this challenge and how it can be managed very well is,
jowyang. Of course.
Lesson 1
➡ Wherever you choose to position yourself, be clear about it, stick to your guns and tweet accordingly.
Step 2 – What: Every culture does things differently.
Unfortunately, the above truism makes your life a bit more complicated because not even all native English-speakers share the same culture, values and beliefs. In the post below I mentioned that non-native English speakers outnumber native speakers in this world by a factor of three to one:
Put simply, it matters where your followers come from if you want to avoid alienating people by offending, and therefore losing, clients and/or followers (e.g., being in-your-face about pushing your product or being too blunt about something). And there are always some people out there who have less time than others or want to reduce their information overload.
Lesson 2 – Whatever you do, it must suit your clients' needs.
➡ ComMetrics followers are decision-makers; through direct messages and emails, they have told me that most of them have limited time to spend with Twitter and 45% call North America home.
P.S. A PEW Internet Study reports that fewer people in powerful positions with a higher socioeconomic status use Twitter than others in the US ➡ 2 percent of the Internet population over 65 years of age use Twitter
P.P.S. Tweeting something like "Happy Valentine's day, I'm so glad to have my wife!" might go down nicely on your US personal Twitter account, but would probably fail to provide a Twitter-beacon for your brand with C-level type followers in a country like Saudi Arabia or Germany.

Step 3 – When: Broadcast? Narrow-cast? 'Simulcast'?
Make it clear whether you use Twitter to reach everyone all the time, specific people for an occasional conversation or both. Most news providers' Twitter accounts tend to broadcast, meaning they follow few, if any, other parties and almost never use the @username reply function (e.g.,
AJGaza). On the other hand, private individuals tend to be more conversational and women sometimes more so than men (e.g.,
pprlisa)
Lesson 3 – Whichever way you decide to go is probably less important than being aware that changing how you do things along the way might upset some of your followers.
➡ I decided to 'simulcast' by conversing and broadcasting: this means keeping a balance between the two so I do not upset my followers.
Step 4 – Where: How many places to check is too many?
Some people follow you if you follow them. Asymmetric Follow is a new phenomenon that James Governor describes this way:
"…If you see a social network where someone has 5000 followers and only follows 150 back – that's Asymmetric Follow…"
jowyang first promised that he would follow anybody and everybody who decided to follow him. But by 2008, he had 6000 and decided to change his strategy and move to asymmetric follow. He now carefully chooses who to continue following and who to add, all to make things more manageable for him.
jowyang  18.8 tweets per day (tpd)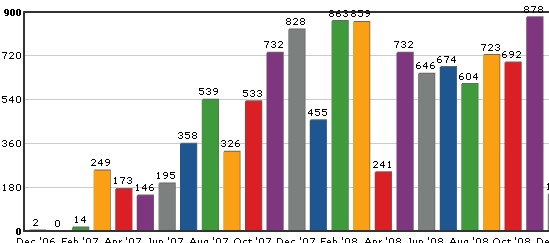 Again, it depends how much time you have and whether you are willing to scan through tons of tweets from people you follow to unearth the nuggets you are looking for (e.g., those with interesting information or linking to interesting material).
Lesson 4
➡ I continue to balance quantity and quality (e.g., replies with @username and tweets with data/info) to keep my current and potential customers happy (i.e. some are CEOs and have limited time).
Step 5  – Why: Tweeting must be value-driven
Looking at my tweets in and around early December I realised that ComMetrics needs a brush-up. While things seemed to be working, I was uncertain that the status quo best served my followers. Nor could I be certain that I was getting the most out of tweeing. As shown in the chart below, I had about 2.4 tweets every day.
ComMetrics 2.4 tpd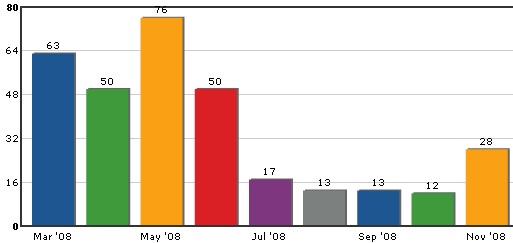 Plus, to stay as focused as possible and reduce noise and chaff on the Twitter channels I use, I decided to specialise my Twitter accounts and open several more.
Lesson 5
➡ I narrowed down the focus of each Twitter account to serve a small slice of our current or potential customers with valuable content/tweets.
Bottom line
Based on the five lessons I learned and described above, I decided to split content and create three additional Twitter accounts to help better serve our current and potential customers.
A.
ComMetrics is my original Twitter account and I continue to broadcast links and @username replies (also called conversing) to share insights, know-how and so forth. It has little, if anything, to do with our product(s); hence broadcasting information and conversing with followers is this account's mantra ➡ brand-building.
➡ Learn from the best: jowyang (mixes conversation with broadcasting – sending out links)  kanter (on this account she 'talks' or communicates with followers) and from rashmi (broadcasts and conversations)
B.
MyComMetrics is for alpha and beta users of our web-based software, provides customer support and information about bug fixes, as well as using direct messages @username responses – one or two tweets a week and some @username reply tweets to clients but keeping it down – broadcasting information and having a conversation with followers.
This is our only Twitter account that follows those who follow us – current clients, potential customers and interested bystanders.
C.
ComMetricsSales provides current and potential clients (or followers in Twitter lingo) with information about special offers, coupons, etc. to help people save money during recessionary times – no more than one tweet a week – broadcasting information.
D.
ComMetricsDEV
provides our associates with information they need to know wherever they are – progress, technical issues and so forth – keeping up the team spirit – broadcasting and having a conversation with our associates (others might call them staff).
➡ inspired by our associates – being a virtual team located around the world requires some effort to keep the team pushing in the same direction
Conclusion
What does this mean for you, you may ask. Whatever you decide, you have to make some decisions based on what you want to accomplish with your Twitter feed as an entrepreneur or small business owner. Of course, selling web-based software services is not the same as selling shoes or being a chartered accountant or a lawyer looking for more clients.
All other things being equal, and based on the above,
scoble is probably right to claim that the value in Twitter is in who you follow, not in who is following you. But for a business and corporate Twitterers things might be more nuanced than that, which is why I chose to establish several Twitter accounts, as discussed above.
As an entrepreneur I love tons of followers. Nevertheless, if push comes to shove, I prefer 1,000 that care about what I share instead of 10,000 who rarely notice my tweets amongst thousands of others (
mediaphyter posted I am popular on Twitter educated me – lots of followers will not help me with my small business). Whatever you prefer, 
danschawbel has a few very important things to say about this in Personal Branding 102: How to Communicate & Maintain Your Brand
=========>
Here's my suggestion for today. What is your take, how do you perceive this situation? What is your Twitter strategy and how well has it worked for you so far?
Please share your insights and write a comment below. Thanks and I look forward hearing from you.
=========>
More resources for you
How I use Twitter; and you?
Should Analysts use Twitter?
6 more tools for Twitter, 10 more blogs and tweetups – check it out
return on microblogging – Twitter – ROM
benchmarking your blog and Twitter activities – compare how well you do
Why Twitter is not always the solution – finding a balance while paying the bills