Better corporate blogging at a Fortune 500 company or an FT Global 500 is a constant challenge. This begins a series of posting addressing this issue in more detail. Here I present you with case studies describing corporate blogging efforts by some of the largest companies from around the globe.
More and more Fortune 500 or FT Global 500 companies have begun using blogging for better communicating with their stakeholders. The latter include but are not limited to customers and investors. Hence, I thought I begin a series of posts of companies that seem to be getting it right, while ignoring those that need to turn off the lights.
Some links to previous posts that are of interest regarding this topic you can find here:
launching a blog – ropes to skip #1 – reputation management
Tidbit about BBC News Blogs – Posting comments is a Nightmare
social media metrics – ropes to skip – what you must do before benchmarking away
Milan Fashion Week – feels like doing the time warp all over
bloggers can have too much influence – Saudi jails Fouad al-Farhan
As these postings illustrates, successful corporate blogging is not an easy task. Here comes another example where the company and its bloggers have figured out an angle to make it work for various stakeholders. In fact, they are using blogging for communicating effectively with people interested to hear what the company has to say, in this case environmental concerns regarding telecommunication.

is it a corporate blog?
Meets most of the criteria we have posted about what makes up a corporate blog. To illustrate, copyright of the blog's content is with Swisscom. Moreover, its corporate logo is featured prominently on the blog and so forth. Puzzling might just be why it is not on the firm's corporate domain www.Swisscom.com — under a sub-section such as blog – offering space for many more corporate blogs, of course 😉 .
Five bloggers have been going at this for quite some time as presented here
These five together manage about one post each week, showing that regular posting is possible. In turn, keeping your reader's interested while not overwhelming them with a flood of postings.
PS. While the blog is bi-lingual (German and French), postings in French are far and few between.
topic – environment
You get insights and knowledge from people that work with environmental issues at Swisscom AG. Corporate initiatives sponsoring community activities dealing with environmental issues are also presented.
Hence, the blog communicates and supports Swisscom's efforts to be a good corporate citizen quite if not very effectively.
target group – benefits
Interesting is that the blog provides readers with information that makes one's life a bit easier. If it improves our health and the use of communication technology, that much better as this example shows:
– reduce electromagnetic emissions with green products from Swisscom
Besides these types of posts, the blog makes a serious effort to reach out to all kind of current as well as potential Swisscom customers. Sometimes the blog focuses on environmental issues that are of interest to people concerned about our environment. In other words, these posts have little if anything to do with the company, its products or services. Nevertheless, they raise important issues – save energy, greener products, what means environmentally friendly, etc.
Naturally, this increases the possible level of trust readers will give to the content coming from this blog. Again, confidence and trust is critical for keeping market share in a deregulated telecom market.
Possible changes for this blog
Two come to mind that take little effort but might help to make the blog even more effective for the company, namely:
a) Blogging, privacy and user policies missing — these policies cannot be found on the blog. This is an oversight that should be corrected. In turn, the likelihood of misunderstandings between bloggers and readers would be significantly reduced.
b) E-mail subscriptions not offered — The blog enables you to use RSS to get its latest content delivered to your desktop. However, since no more than about 12 to 25% of users (more likely around 15% or less for Switzerland) take advantage of this technology, the blog should offer readers an e-mail subscription as well.
bottom line
The Swisscom blog has come a long way since its launch in 2006-09-04. We congratulate its bloggers – well done.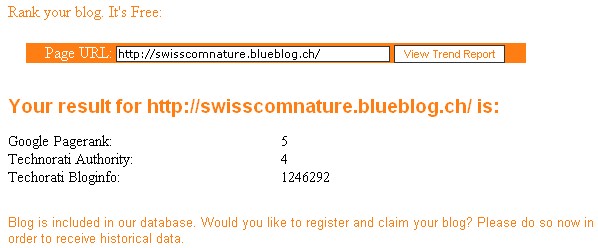 As the pre-liminary statistics shown above indicate, however, there is still room for moving up in in the rankings. We look forward tracking its progress and keeping you posted.
We recommend that you check out this blog.

If you are a FT Global 500 corporation, register your company's blog(s) to be included in the upcoming FT ComMetrics Global 500  blog index ==> there are some very good reasons why you want your corporate blog(s) included