Daimler's corporate blog will celebrate its first birthday on October 16, 2008. Yes, the employees at Delta, GM, Toyota and Southwest do blog a bit differently than the folks at Daimler AG.
Whenever you start a blog, sometime in the future you have to show that it makes a difference to the bottom line. In fact, your boss might soon ask why she should allow you to spend time and money on writing blog content.
Naturally, the purpose of your blog's mission should be clear. For instance, you may have looked at one or the other brand and you ask yourself
'what is the objective?'
Have a look what it looks like here:
Can you see what the objective is for these blogs?
Can you answer the above question? What we know is that the employees blogging for the above companies do it out of interest. Nevertheless, good blogging is not just about interest.
Effective blogging is about focus. Target audience, topical focus and so forth.
Hence, blogging because your CEO suggests it or the marketing folks think it might help the company's reputation is nonsense. Neither is it a good idea to start a blog just because your competitors did.
You need a clear and concise answer to these two questions:
1) what keywords are you interested in?
No, it is not about keywords but it helps to narrow down your focus and provides your targeted audience with content that they want to read.
2) what is your topical focus?
Focus on a narrow set of topics. If it is your corporate blog, are you focusing on your customers, suppliers, employees or maybe investors?
Each group is served with different content. Hence, what is interesting to a customer may not be to your suppliers or investors.
What about blog.Daimler.com – does it deliver?
Am 16. Oktober feiert das Daimler-Blog seinen ersten Geburtstag (October 16 will be the Daimler blog's first birthday). Hence, it is time to have a first look at how things are going.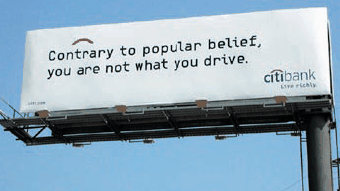 Browsing the Daimler blog and its various postings does not make it that clear what target audience the blog is after:
– customers who want to learn more about product developments?
– people interested in a traineeship or employment with the company?
– suppliers that want to know more about how things work at Daimler in order to secure a contract?
Having spent several hours on this blog it seems to me it tries to serve all of the above type of audiences.
The blog authors are younger employees from various divisions of Daimler. This is something that happens elsewhere as well as this blog shows:
Nevertheless, the Daimler blog contributors (innovation, products, training) write about fewer issues than the Delta Air Lines folks do.
Hence, Daimler has succeeded in providing a bit more targeted content going into more depth than the airline blog just mentioned.

How does blog.Daimler.com compare to another car manufacturer with its blogging presence? Have a look at the Toyota blog in the U.S.

The latter focuses on new products. In contrast, the Daimler blog also addresses production and supply chain management. Compared to the Toyota blog in the U.S. it is far more low-key about the company's products than the 'in your face' approach Toyota seems to prefer on its blog in the U.S.
For me, the Toyota blog is a bit of turn-off. The Daimler blog is far more informative and low-key. Nevertheless, two factors could help in explaining this difference to some degree:
a) cultural differences – USA versus Germany, AND
b) who stands behind these two blogs – coorporate sponsor = sales versus corporate communications.
Bottom line
Congratulations to the writers at Daimler's blog for offering many interesting tidbits throughout their first year of existence. Nevertheless, while celebrating its first birthday on October 16 it might be appropriate to address:
– are we reaching those readers (target audience) we want to reach?
– should the focus of topics addressed/covered be expanded upon or narrowed?
– is our content addressing issues pertaining to the keywords we are interested in?
Of course, whatever the answers are to these questions, a rational (i.e. the why) should be provided as well.
Do you have the answers, how do you feel about the blog.Daimler.com venture – care to share, leave a comment below.