The original story is below, while details about the updates can be found at the bottom.
2011-04-21 – Update – Amazon EC2 services  – the outage of Amazon's cloud services!
Whether you use Gmail, Picasa, Facebook, Tumblr or any other software-as-a-service (SaaS), infrastructure-as-a-service (IaaS, pronounced eye-arse) or platform-as-a-service (PaaS, pronounced parse), using cloud computing requires proper risk assessment and management.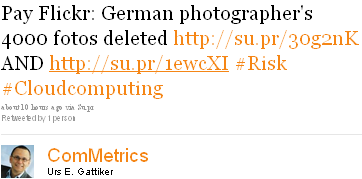 So what happened? This week saw another case in which a user agreement was used to close an account without much recourse for that individual. We discuss this in more detail below.
Flickr fails customer relationship management 101
This week, Zurich photoblogger Mirco Wilhelm discovered that Flickr had deleted about 4000 photos from his account. Here is some background:
1. Mirco Wilhelm has been a premium Flickr subscriber for over five years (costs $24.95 a year).
2. Mr Wilhelm had previously submitted a support ticket complaining that another user posted some of his photos without permission, and wondered if the Powers That Be had deleted the wrong account.
Apparently, Flickr had made a mistake and advised Mr Wilhelm that,
"…I can restore your account, although we will not be able to retrieve your photos. I know that there is a lot of history on your account–again, please accept my apology for my negligence. Once I restore your account, I will add four years of free Pro to make up for my error…"
Understandably upset, Mr Wilhelm complained about Flickr's response online. Various media outlets quickly picked up the story, forcing Flickr (owned by Yahoo!) to fix the problem and restore the deleted files.
Enter your email address to receive live blog updates in your email inbox… You'll be glad you did.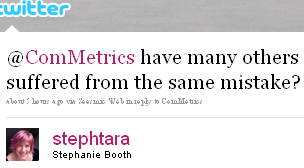 In a tweet, Stephanie wondered whether Mr Wilhelm's case was a common occurrence. The answer is, pretty much: in 2009, Scott Branch's two-year-old account was also deleted, but his was never restored.
Mr Wilhelm sent me a follow-up email, translated below:
1. Deletion of photos or entire user accounts happens quite regularly on Flickr for various reasons, such as copyright issues or objectionable pictures that have been incorrectly classified. Until now, such accounts have not been restored and Flickr's canned response has always been 'cannot be done', as I was also first told.
2. Of the cases I know about, the most that was offered was account reactivation and an extension of a Flickr Pro Account subscription. Consequently, many users have changed platforms or are now storing images on their own websites.
3. My account was completely restored, so all links, comments and contacts are fully functional, which saves me from having to do any additional work.
By the way, Yahoo! sent out this statement to the media and others:
Yahoo! is pleased to share that the Flickr team has fully restored a member's account that was mistakenly deleted yesterday. We regret the human error that led to the mistake and have worked hard to rectify the situation, including reloading the entire photo portfolio and providing the member with 25 years of free Flickr Pro membership. Flickr takes the trust of our members very seriously and we appreciate the patience shown by this member and our community. Flickr will also soon roll out functionality that will allow us to restore deleted accounts more easily in the future.
Incidentally, Flickr's fine print shows you have no rights:
Flickr reserves the right to deactivate your account without warning at any time.
This reminds me of WikiLeaks vs Amazon and EveryDNS.net – and the winner is?
Bottom line – lessons learned and takeaways
Lesson 1 – You do not own your data, you rent it
Data using cloud computing (like Google Chrome OS) means there is no local storage and you rent access (Kindle, Spotify music services, etc.). The only way around this problem is to download data and images to your PC. When it comes to user agreements, the devil is in the details.
Lesson 2 – Data access can and will be canceled if your provider feels justified
Amazon accessing your Kindle, Flickr deleting your account, Google blocking Google Chrome or Android users from accessing their data… all of this means having to store your data on your own PC, webpage or server to be safe.
What do you think? Did you enjoy reading this article? Consider adding a comment below!
By the way: Get the straight-forward answers you need to use social media tools more effectively, while saving time and improving your social media tracking and brand monitoring. Benchmark to improve performance right now:
UPDATES
Update 2011-04-21: Amazon's cloud servers had an outage – EC2-disabled – this resulted in many cloud-based services being down for the whole day.
It appears that a network connection failed that Thursday morning at the Amazon data center near Dulles Airport outside Washington. This triggered an automatic recovery mechanism that then also failed.
Amazon's computers are divided into groups. This is supposed to make them independent if one fails since others are supposed to stay up. But Tursday's problems took out several groups at the same time – see list of systems that were out.
Another indication that using cloud computingrequires proper risk assessment and management (check also at Amazon's EC2 status page)