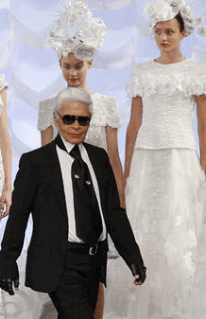 Imagine the above as a headline of breaking news on Twitter. The story goes on to explain that Paris Fashion houses have been commissioned by the World Economic Forum (WEF) to organize next year's January 27-31 event. You may be shocked by the suggestion, but bear with me as I explain why this might result in doing more and better with less. So, read on.
Recession? What financial crisis?
While designers were living the dream at the Paris couture shows, the world's business and political elites were doing the same at last week's World Economic Forum (WEF) in Davos, Switzerland.
During Fashion Week, Paris couture presented garments whose costs are equivalent to most people's annual salaries. Similarly, what some Davos delegates spent to get to the forum with their private jets (or on a business class fare) and to host a breakfast or dinner party could have fed a family of four for about five years, as well as cover the cost of the children's schooling.
What is more, Davos and the couture shows all happened during the same week that some companies, including Caterpillar and Philips, announced over 50,000 additional lay-offs. Plus, in the month of January alone, 800 Swiss firms announced that they would be putting their employees on a short work-week (the employee's hours worked is reduced, while unemployment covers wage losses incurred for up to one year). In Davos, the world's elites acknowledged that during last year's annual forum they had no idea how bad things could really get. Should we blame them?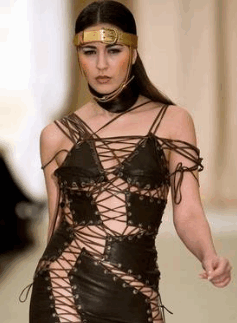 The real economy probably has little, if anything, to do with Davos or with couture. It might take 800 hours or more to create a couture garment with the requisite pearls, hand-cut leaves and flowers, however the pieces also cost unreal amounts of money, not just for the buyer, but for the fashion houses to make them.
In fact, for most fashion brands the cost of maintaining a couture house that produces these exorbitantly-priced garments and puts on a show is greater than the returns. Until one starts factoring in the free media coverage that helps build the house's reputation and image, which results in higher perfume and lipstick sales.
Davos is a place where good intentions are expressed by delegates and antagonists turn into panelists. As US president Obama's representative, Valerie Jarrett made a boilerplate speech at Davos stating in so many (or a few more) words that the US would not indulge in protectionism. Gordon Brown, the UK prime minister, was preaching the gospel stating that the solution to the global financial crisis required collaboration among states. In fact, he claimed that were we to follow the road of protectionism and nationalism the disaster could only get much worse than today.
But what is said at Davos is sometimes the opposite of what these leaders tell the folks at home. For instance, Gordon Brown has attacked banks such as Royal Bank of Scotland for taking domestic deposits and using them to lend overseas. Also, during 2007 he made a pledge regarding employment that striking protesters at the Lindsey oil refinery in North Lincolnshire prominently plastered their signs with at a rally last Friday (2009-01-30).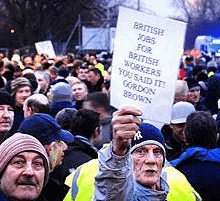 As the picture to the left shows, the picketers were unimpressed with Brown's failure to deliver:
–"British jobs for British workers you said it! Gordon Brown", or
–"In the wise words of Gordon Brown UK jobs for British workers".
These wildcat strikes were caused by Total's decision to hire an Italian company for a £200m construction job at its Lindsey oil refinery. The situation pits British workers against their Italian peers who might do part of the construction work: nationalism at its worst.
Similarly, both legislative bodies in the US are trying to push through a stimulus bill that contains "Buy American" provisions.
During Davos and again just last week, Microsoft CEO Steve Ballmer got a letter from Chuck Grassley, the Republican senator from Iowa. In it the senator urged Ballmer to dismiss foreign workers on H1B visas first as part of the company's 5,000 job cuts during the next 18 months. Is this not nationalistic and discriminatory? You tell me.
Bottom line
Some have stated that while the elite came to Davos and talked, they sadly left with few ideas on 'how to shape the post-crisis world'.
Elegant silhouettes dominated the menswear couture shows and designers were living their dream at Paris Fashion Week. Meanwhile, in Davos people were concerned about Gordon Brown and Wen Jiabao losing their grip. We suggest a move from the unreality check to greater creativity and practical solutions. Therefore, organizers should seriously consider combining WEF and Paris Fashion Week during 2010. Combining the efforts of Chanel, who put on the most magical show of the season this year, and WEF Davos, which left confused delegates behind, might result in fusion and more practical and realistic outcomes. This follows the motto, do more and better with less. Quite appropriate during a financial crisis, wouldn't you agree?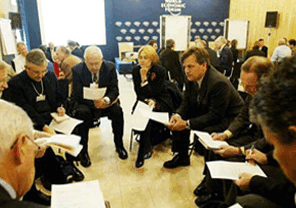 Davos' ambitions have been dimmed this year, but one must admire Klaus Schwab and his great team for not throwing in the towel. Most importantly, joining forces will help both Milan Fashion Week (this feels like doing the time warp all over again) and Paris Fashion Week to find new customers for their high-priced suits and dresses.
Naturally, the beauty of the mountains and clothes would lead to a more inspiring event. This should culminate in creative solutions for the post-crisis world, a definite need since it will surely still be a top item on the agenda for next year's Davos meeting.
For Angela Merkel, Gordon Brown, Wen Jiabao and Vladimir Putin, the WEF at Davos is also about being perceived by their respective constituencies and the wider public as being able to maintain the initiative.

Needless to say, Davos once again showed that besides talking about achieving laudable objectives it is certainly about power and influence. For instance, thanks to lobbying efforts from France, both Spain and The Netherlands will participate in the G-20 meetings while Switzerland will continue to have to wait in the hallway. This even though Mexico and China made positive noises during Davos about the country participating, at least in public.
We must wonder how Gordon Brown hopes to find a practical solution to the financial crisis, whilst keeping one of the world's most important financial centers locked out. Just so that we are on the same page, 40 percent or more of the world's private wealth is managed by Swiss financial institutions.
As well, Swiss-based Nestlé is the world's largest bottled water company (e.g., Arrowhead, Evian, Perrier & Poland Springs), and perhaps best known for its food products, including chocolate, breakfast cereals and coffee. How feasible will an agreement on drinking water that requires industry-collaboration be if Nestlé is absent from the table? The G20 meeting in London on April 2 this year should not exclude such important governmental and industrial players, should it?
But who says that sharing in the misery means finding solutions to rectify the problem? How else can leaders talk about the danger of protectionism and nationalism at Davos, while parroting the opposite catch-phrases at home in China, France, Germany and even the US? (Also refer to picture of UK protesters further above.)
In conclusion, there was a lot of talk about better corporate governance, regulation and being driven by a moral compass. This sounds very hollow when political leaders are getting caught speaking out of both sides of their mouths on globalization. Talking about fighting protectionism and nationalism whilst being in Davos versus the opposite when chatting to the folks or media at home. Such talk may be politically tempting, but it is economically damaging and wreaks havoc with rebuilding trust and confidence, something people felt was required during days One and Two in Davos.
As Simon Peres said during one of the panels he participated in: "We are here to honor the crisis." But maybe what we should demand from Davos 2010 is some visible progress and concrete solutions. One example was Japan's prime minister Taro Aso, who suggested that surplus countries (such as Japan, Germany and China) should "enhance internal demand" without falling back into nationalism and protectionism. If Davos could now come up with a verification scheme for Aso's suggestion that helps make sure it is properly followed through on without further ado, we might have something to work with. It would most certainly give Pascal Lamy, the WTO and the Doha Development Round something concrete to pursue that helps the poorest among us.
Conclusion
Of course, if trade surpluses must be eliminated, then the US must start getting rid of its huge trade deficit. Only then can we take care of the world's huge trade imbalances, which threaten global trade and prosperity for all. Once again, President Obama and his motto "Yes, we can" is called to the rescue.
P.S. The financial crisis has now reached China. Exports have been dramatically cut in the past few months. According to Chinese officials quoting a survey by the agriculture ministry, by the start of the Chinese New Year festival (2009-01-25), 15.3 percent or 20 million of China's 130 million migrant workers had lost their jobs and quit manufacturing centers. However, during his visit to Davos and several other capitals across Europe last week, Mr. Wen was still talking about 12 million. How this will play out regarding civil unrest in China once the New Year festivities are over is unclear.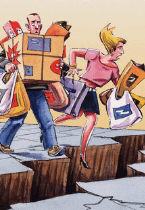 P.P.S. The US government's proposed stimulus package ($700 billion approved already, another $800 billion should be approved this week = 10% of the country's Gross Domestic Product) includes an item that will pay people $7,500 if they buy their first home or if they buy one and have not owned one in the past three years to summer 2009. Until now, this pay-out was given under the same conditions but as an interest-free loan that had to be paid back within 15 years.
Short-term interest rates are near zero and the government is considering purchasing treasury bills to help reduce mortgage rates further. All these instruments are supposed to help keep interest rates low in the hope that consumers won't stop spending money. But this overlooks that overspending led to building too many too-large houses. In turn, this resulted in the housing/mortgage crisis.
For foreign creditors, such as China and Japan, buying US government debt is like paying cash for trash and it promises to get worse. If these countries stop paying for US overspending we will have a real economic disaster. The house of cards that is our world economy will collapse in the face of a mere breeze of wind.
=========>
Here's what I'm suggesting for today. Enough about what I think and feel, what is your take? Share your thoughts below, they matter a great deal to me.
Incidentally, if you want the real story about 2010, follow WEFdavos to get the scoop. It will keep you posted throughout the year to get you ready for the next meeting in Switzerland.