But first, can you deliver the number of followers your client wants? Are you effective when it comes to your tweets and have you succeeded in engaging your clients while using Twitter, Identi.ca, Naijapulse and so forth?
If you want to know more, we outline four tips that will help improve your experience below.
You can get updates for this blog on Twitter by following @ComMetrics, get a free subscription by RSS, or get new posts via email:
Tip 1 – What is your vision? Benchmark accordingly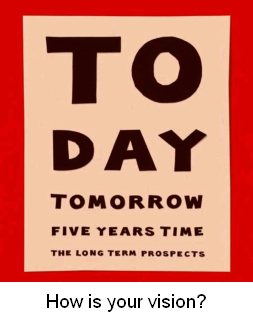 It is critical to have a vision when using Twitter: what is the purpose and what do you hope to accomplish?
For instance, if your target audience is international, tweeting at 15:45 PST and 07:30 CET may be useful, but less so if it is local.
Unless you can define the purpose behind doing something, it will be impossible to set key performance indicators (KPIs) that provide you with actionable metrics. If you wanted to get 500 followers and only got 400, this will help you answer why you got 100 less than you targeted for and what to do about it.
My advice: Link your vision or strategy to KPIs and actionable metrics.
=> ComMetrics – Social media metrics: 5 critical steps to success
Tip 2 – Don't fret about details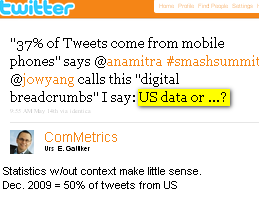 I tweeted about the fact that tweeting from a mobile using text messaging is only possible in a few countries. While I was pleased to see that Lauren Young quickly re-tweeted my tweet, it was disappointing that she cut off my question about whether these data were based on US users (see below).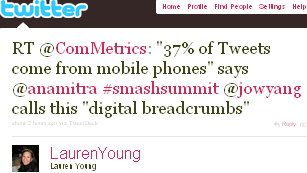 This example illustrates the absence of control one has over what material or how people re-tweet. Often, they leave something off, add different keywords with a hashtag # and so forth.
My advice: Don't get mired in the details – an incorrect re-tweet or mention is better than none.
Tip 3 – Keep signal-to-noise ratio high
Signal-to-noise ratio (SNR or S/N) is a measure used to quantify how much a signal (e.g., from a mobile tower) has been corrupted by noise. Generally, a ratio higher than 1:1 suggests a signal higher than noise.
Some people suggest that signal can be defined as a tweet including any one or more of a URL for information, a hashtag # like #metrics or #ComMetrics, or…
In short, this assumes that the signal (i.e. tweet) passes on information, not just anecdotes. But even an anecdote focusing on a topic one's followers care about can be highly interesting.
The key here is to understand one's followers and provide them with tweets that they consider to signal, not just blah, blah, blah.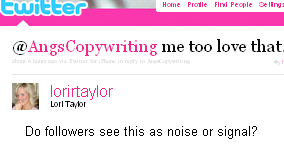 My advice: Ask yourself if your clients appreciate being answered with a tweet or having to read such tweets if they are following you (see right).
Tip 4 – Make sure your followers really value your tweets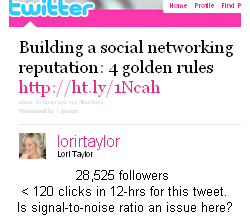 28,525 followers or more is impressive and Lori follows many people, which is a sure way to increase your numbers.
If we tweet a link we get about 20 – 25 percent of our followers click on it within 12 hours or less, which works out to about 150 clicks (not counting re-tweets, etc.).
Lori manages to get about .5 percent, which also means a lower absolute number than ours (about 120 clicks on the link she provided).
If you or a client are interested in quality instead of quantity, who follows your tweets and whether they click on your links matters more than the size of your network.
My advice: Think about how many tweets your followers can handle. Busy managers want just a few and consistent timing helps get their attention.
Take-aways
Following the above suggestions and exhibiting similar characteristics in our networking lives means being liked, and if you are liked you can be more effective.
1. Nespresso, what else: As this remarkable exercise in luxury branding within a niche of an otherwise mass-market business illustrates, consumers are not necessarily rational. Why else would they pay around 40 dollars for a kilogram of coffee packaged in capsules (think carbon footprint!), when they could purchase the beans for less than half that price?Similarly, people are tempted to follow those with a brand and reputation on Twitter. Accordingly, it matters little if their tweeting strategy follows the tips outlined above or their signal-to-noise ratio is low – the aspiring class of social media experts will follow them regardless and click on their URLs.
2. Twitter is a great tool: It is just that – NOT a magic wand for building community, fostering learning and, most importantly, spreading the word about blog content on the corporate website in support of the company's branding efforts.Using Twitter to build reputation and reach your target audience takes perseverance and great signal-to-noise ratio.
More resources
Ever thought about who reads Twitter lists? Very few people. Read the following blog post but don't worry about lists:
What is your take? How do you see these issues? Have you tried any of these approaches to improve your Twitter effectiveness? How have your clients responded, do they agree? Please let us know in the comments!
Article source: ComMetrics – 4 tips for successful tweeting
This blog post is related to our webinar held on Wednesday 2010-05-26 ComMetrics University – Twitter: Serving your clients better.
Upcoming webinar:
Attend our webinars by registering for the ComMetrics University – we help you improve your social media performance faster.