Social media monitoring DOs and DON'Ts: social media marketing, social media metrics, social media monitoring tools, benchmark test, Twitter monitoring, luxury branding, and other happenings we came across while surfing the internet, blogging and posting on Facebook, Identi.ca, Google Buzz, or Twitter.
In this post, we share some interesting things we learned about research dealing with online shopping, kids online and mobile Internet penetration and another Google FIRST.
Mobile Internet arrived in your neighborhood – can you afford it?
A recent study by the International Telecommunication Union (ITU) indicates that prices for PCs, smartphones, Internet access and so forth have continued to fall during 2010 (2010-10-19 press release World in 2010: ICT [information and communication technologies] facts and figures).
According to ITU estimates, 68 percent of consumers in developing countries have access to mobile phones. This penetration rate is the highest for any technology so far.
Unfortunately, high-speed Internet access remains prohibitively expensive, especially in developing countries. For instance, according to ITU, in 2009 an entry-level fixed (wired) broadband connection cost a monthly average of:
– 190 PPP$ (purchasing power parity in US dollars) per month in developing countries, but only
– 28 PPP$ in developed countries.
Mobile phone services are much more affordable, with an average monthly cost of:
– 15 PPP$ in developing countries, compared to around
– 18 PPP$ in developed countries.
The relative price for ICT services (especially broadband) is highest in Africa, the region with the lowest income levels. The region lags behind when it comes to broadband access.
Resource: The World in 2010: ICT facts and figures – download pdf file
If life could be simpler than Windows 7, we would use …
Ray Ozzie pointed out that Microsoft has clung to a PC-centric view of the world that is no longer valid. In fact, Microsoft's Windows and Office cash-cows may no longer rule the world if Mr Ozzie is to be believed. He was chief software architect at Microsoft but announced his retirement from the company on 2010-10-18.
His parting shots pointed out that the future will likely not be a Windows-powered PC or notebook. Instead, he sees simple purpose-built devices such as the iPhone becoming increasingly popular with users. In part this is because their simplicity makes it easy for users to connect quickly with those online services they want to use (e.g., checking the timetable for the next train or flight home).
Ozzie's parting shot at Microsoft: We have entered the post-PC era
Kids online – what they do and shouldn't
This week I also came across another research paper by the EU Kids Online II research team, that surveyed 9- to 16-year-olds from across Europe (except Switzerland, but including Turkey; see the EU Kids Online website).
What should bring us up short are the following two findings listed in the press release:
1. 48 percent of children who use the Internet have access in their own bedroom, and almost one in three children (31 percent) have access via a mobile phone or other handheld device, and
2. Many 11- to 12-year-olds lack basic safety skills such as knowing how to set privacy settings or block unwanted contacts.
Watch this 6-minute interview with the researchers – very informative.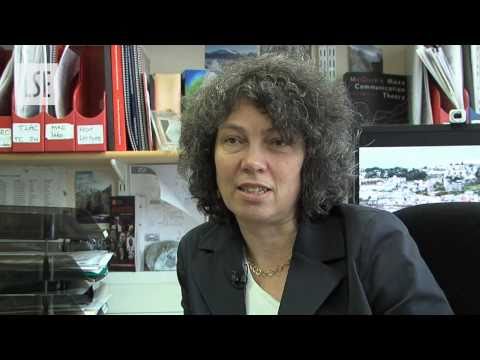 Download the report: Sonia Livingstone, Leslie Haddon, Anke Görzig and Kjartan Ólafsson, with members of the EU Kids Online network (October 21, 2010). The perspective of European children. Initial findings from the EU Kids Online survey of 9- to 16-year-olds and their parents.
The researchers raise some limitations to their work on page 21, such as the fact that the interviews were probably too long to hold the children's attention (about one hour) and responses could have been influenced by parents (two-thirds of interviews were conducted with parents present). Finally, the recruitment process may not have reached the most vulnerable or marginalized children.
Nevertheless, the study is very interesting and a first benchmark to provide us with information about where we stand and what we must watch out for if we wish to protect our kids from potential negative consequences of Internet use.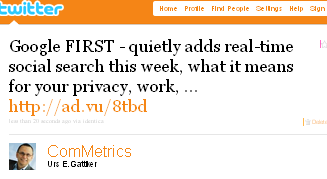 Google has added real-time social search. For now, it works in the US, but people are already using it (click on image to get more info via our Xing SM Monitoring group).
What is your take? How do you see these issues? Please let us know in the comments!