The other day got me thinking about some of the problems Xing or LinkedIn groups. Please don't misunderstand, I really like groups and participate in the discussions on several whenever I can.
My main problem is that it is difficult to make them work for our company – or yours, for that matter.
So this post breaks down the issues and goes over exactly which big hurdles to master and focus on, and most importantly, how to apply these data to ensure smart changes to your group strategy.
Below are five critical steps to ensuring that groups on Xing, LinkedIn, Facebook or Ning are off to a great start. Or you can check to make sure your current group has mastered these challenges and what adjustments need to made otherwise on the road to success.
We have already addressed some other important issues pertaining to being effective on Xing, LinkedIn, Viadeo or Facebook here:
Here are the danger zones to watch out for before launching any kind of group for your company or yourself.
Danger zone 1: No business purpose
If you are not clear what the business purpose for a group on Xing, Ning or Facebook is, why have it?
Even for a group that focuses on your hobby, such as trekking or mountaineering, writing down the intended purpose makes sense (e.g., finding others to share my next trekking trip with after work). Plus, re-evaluating six months later whether the purpose is still the right one or being fulfilled is helpful to ensuring the effectiveness of your group.
Within an organization, if your group is not aligned to specific business needs, it will be that much more difficult to get top management's support or justify the required time as an entrepreneur.
Danger zone 2: Moderators lack correct skill-set
Managing a group on your own is tough. It is generally more efficient to have a small group of motivated co-moderators with different skills. Of course, they must get along well, and hopefully they even like each other a little bit.
There are three skill sets and knowledge areas required for the moderator team to be successful:
a) communication and interpersonal skills;
b) subject area knowledge and skills (e.g., depending on the focus of your group, knowledge in human resource management, marketing, financial markets, etc. is required); and
c) business knowledge and skills.
Ideally the group's manager or chief moderator will have a grasp of all three skill sets and therefore be able to manage experts and make correct decisions within each topic area.
The evidence we have uncovered indicates that people who can fulfill this requirement are in short supply. I have to work hard to get it right myself.
Danger zone 3: Poor project management
Virtual groups or community initiatives fail because those in charge lack two basic points of project management expertise:
1. Lack of stakeholder management – what the group wants versus what top management wants,
2. No planning for scalability from launch to large membership – how will you keep people involved whether there are 10 or 100,000 members?
There are also risks involved in having a virtual community that require analysis and careful management to mitigate possible fall-outs (see How Nestlé failed to do it right on Facebook).
Typical nonsense situations are where projects:
a) set out to compete with the very vested interests they require cooperation from (typically consultants),
b) with untrained administrative support,
c) without well-defined targets, while
d) ignoring key senior stakeholders.
Danger zone 4: Poor stakeholder management
We can agree that poor project management is a serious issue, but so is stakeholder management. Key players such as management or important suppliers and customers matter. So do influencers that may be experts in a topic or content offered to group members.
The term blended learning implies that technology is not an end in itself. Hence, the group and its core supporters may require offline get-togethers or informal meetings using Voice-over-IP (VoIP) to make sure that everyone is pulling in the same, and right, direction.
Please manage your stakeholders – easier said than done, as we discussed here:
Danger zone 5: Failure to demonstrate value
My take is that most of us can manage several of the above challenges quite easily. Nevertheless, we may not have written down the answers, or we may not have spelled out what value must be achieved with such a group.
Value could be increasing your conversion rate, such as more webpage visitors signing up for your service. Or it could just be increasing your company or personal visibility.
If value cannot be spelled out clearly, as well as understood and agreed on by stakeholders, you may not get what you came for:
More resources
Take-aways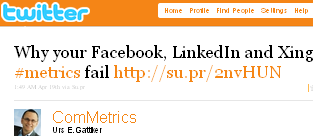 Even if your group is already in full swing, it does not hurt to look at the above danger zones to see how well you are doing.
Sometimes, careful assessment down the line helps fine-tune your direction, making higher performance more feasible. Still, be careful regarding:
purpose – figure out the purpose of a group on LinkedIn or a fanpage on Facebook;
co-moderators – these are critical and hopefully complement the chief moderator's talents because they will certainly have shortcomings; and,
value proposition – unless your stakeholders (e.g., top management, target clients), co-moderators AND co-workers understand and agree with your value proposition for having a group, you are in trouble right from the start.
What is your take? How did you figure out the purpose for your group? Did it work? What needed changing?
Are you still trying to decide if you should have a group on LinkedIn or a fanpage on Facebook? How did you go about deciding what purpose you want to realize by doing so? Share, please! Please let us know in the comments!
You can get updates for this blog on Twitter by following @ComMetrics, get a free subscription by RSS, or get new posts via email:
Article source: ComMetrics – LinkedIn, Viadeo and Xing: 5 dangers of failure
ComMetrics University – coffee break webinars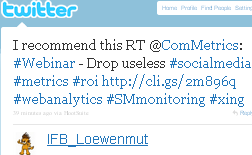 Webinars are held every Wednesday at 8:45 AM CET for no more than 20 minutes – the time you spend on a coffee break.
If you are quick you might still be able to join today's session.  Why not sign up for next week's webinar – Wed. April 28, 2010 – right here:
==> What is your strategy for social media? Why has it failed you so far?