Saving is back in vogue as western economies struggle to recover and banks' biggest challenge right now is trying to persuade terrified customers to once again put their trust in the financial system and its institutions. Can financial institutions such as Scotiabank succeed by using social media and online communities more effectively? Read on and judge for yourself.
Recently I have addressed corporate blogging issues such as:
FT ComMetrics Global 500 blogs – case study – HSBC
Volvo, China Mobile, Nike, Starbucks, Apple, ABB, Swisscom and more: case studies about corporate blogs
Before you start a corporate blog, tie your shoe laces properly
Happy birthday Daimler: a blog that rocks
Case study: Beck's beer – does humor translate?
Innovation can give companies dominance within their environment. For instance, Josiah Wedgwood was a formidable technological innovator in his time. However, his recent successors famously struggled to automate the simple attachment of a handle to a teacup. They lacked his ruthlessness, moving too slowly to shift production offshore in an effort to save UK and Irish jobs. Woolworth's was another dinosaur. Customers had forgotten quite why they were supposed to visit a store that once sold everything for sixpence but ended up selling nothing at a range of prices.
The above indicates that adverse macroeconomic conditions reduce the survival chances of businesses. The weakest succumb first. Waterford Wedgewood had not made a decent profit for years and it was already in poor shape when driven into administration this month. During such times, social media appears to some financial institutions as the way to build a better mouse trap, while making sure that the customer has a connection that goes way beyond 'engagement'.
However, do customers understand why they should visit Beck's beer's blog site or why they should join a financial institution's online community for entrepreneurs, such as the one offered by HSBC?
Beck's and HSBC indicate that large corporations and their brands are struggling to convince customers that they are different. Moreover, convincing customers or potential clients to join these brands' online events or social communities is a real challenge. Another example is Canada's Scotiabank, which tries to reach entrepreneurs and small business owners with:
This is a dashboard-style application that one must register as a member to use. Thereafter you can gather feeds, news, and communicate with MyVault community members via forums.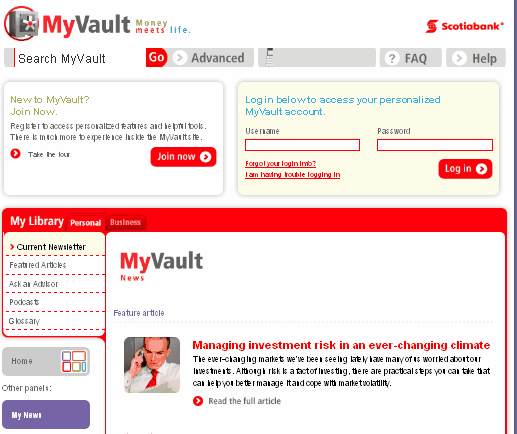 Evaluation
Used correctly, communities like MyVault can impact the top and bottom line of a company's financials. In theory, MyVault encourages customers to self-support each other (reducing costs for Scotiabank), as well as spreading the word to each other (efficient marketing and increased sales).
In practice, does MyVault – money meets life – personal and business achieve the above goals? To begin with, it has to convince targeted users that spending time on and participating in this community is worthwhile.  Maybe if you are a customer it does, but it seems to be something of a chicken-and-egg issue. Unless you start with nuggets that attract people to join, the community is unlikely to be large enough to generate the value content needed to sustain itself and even less likely to grow.
This example shows that succeeding in offering value for time in the age of distraction matters if you want a following during these recessionary times. Unfortunately, MyVault illustrates that not everyone can be a leading innovator who blazes a new trail. I am not sure what the objective for this online community is, but it seems to fail in providing the nuggets and value content that could attract small business owners. This could result in a slow and painful death for MyVault. Worst is that a social community that is half dead does not instill trust in the Scotiabank brand and may instead result in the community succumbing to another round of budget cuts at the bank.
Bottom line
A cold-blooded analysis of the performance of most of financial institutions' online communities shows that few have delivered big, or even decent, returns. Even fewer of these online ventures have helped establish a deeper sense of connection that goes beyond a lackluster customer 'engagement'.
The Royal Bank of Canada set itself the goal of reaching students by having their peers write about issues that matter to Canada's post-secondary population. After just a little less than a year it seems that the blog has succeeded. MyVault aims far higher. While holding on to customers is proving hard, keeping MyVault subscribers presents a tough task considering the community's content.
The way survival of the fittest works in the branded online community business is as chaotic as the operation of Darwinism in nature, however. Yes, financial institutions' social media strategy – an increasing trend in that industry – has to be aligned and pursued with vigor whilst striving for value to attract users. Nevertheless, we can only hope that bankers will get over their temporary lurch into social media infantilism. How about remembering that hitting the phones and talking to customers is generally a better way to generate business and keep current clients satisfied than using a Twitterfeed or keeping a boring online community alive such as MyVault or HSBC.
=========>
Here's what I'm suggesting for today. What is your take? Have you come across a financial institution's online community that really made a difference to your business or non-profit organization?
Please provide your thoughts and insights! Other readers would surely love to read them. Thanks.
=========>
In the meantime, register your blog at My.ComMetrics.com for free and track your performance to see how you measure up to your competitors.