Intel is using the SEC's new default electronic delivery process for e-proxy materials smartly.
2008-04-02 Intel Corporation demonstrated that the Security and Exchange Commission's (SEC – U.S. regulatory agency) new default electronic delivery process for e-proxy materials works GREAT if used correctly.

We have been watching about 200 companies or there abouts using the new default electronic delivery process for e-proxy materials. Most of these companies botched one thing or more, a dismal experience for investors so far.
Now comes Intel and yes, it is the first company using the new notice-and-access option that provides:
1) an online annual report and
2) a proxy statement properly.
Both of the above are offered online in nice looking HTML (viewing online) as well as a PDF document format (for downloading).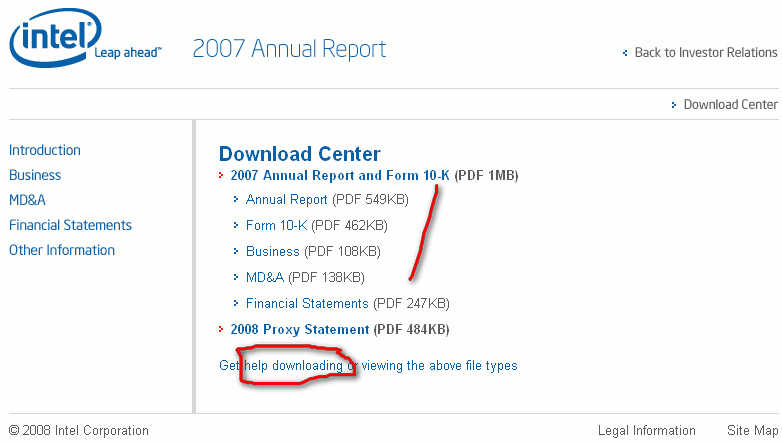 If you cannot see the above image, get it here:Intel 2007 Annual Report and 2008 Proxy Statement
Possible Improvements for 2009
It would have been nice if the help section (circled red above) had linked to downloading the Adobe Reader to be able to browse through the downloaded documents. Some instructions might also have helped.
Second, at a first look a shareholder might be a bit confused. The webpage makes it hard in figuring out what documents to download (see our read vertical line in above image).
Accordingly, giving investors one file that was to include both, Annual Report as well as 2008 Proxy Statement would have been nice. Finally, even once you have downloaded the material, you are unlikely to know exactly what you have to do.
Sorry, however Intel investors living in Europe have yet to receive the snail mail explaining to them how it all works.
Therefore, while Intel did well, there is still some room for improvement.
GREEN MOVEMENT
Intel has also attempted to quantify the benefits of an electronic distribution of notice-and-access to the company, its shareholders, and the environment.
2008-04-02 in its news release Intel stated that it will save about $2mio in printing and mailing costs, avoid about 4mio pounds of carbon dioxide equivalent, and prevent more than 13mio gallons of wastewater.
Why is SEC's new default electronic delivery process for e-proxy materials a good case study for the effective use of social media?
2007-12 the US Securities and Exchange Commission (SEC – a regulatory agency) undertook a major project to convert pay figures in the regulatory filings of 500 large companies from standard text to intelligent Extensible Business Reporting Language (XBRL). The SEC made the XBRL-tagged pay and financial data available to any developer who wanted it. Hence, you can now find details about executive pay from U.S. listed firms online here:
corporate governance – transparency and accountability for executive pay (please enable Java script to enable the interactive feature to work)
In addition to increasing transparency, using websites and social media can help in communicating more effectively with the traditional media as well as investors:
If the web is good enough for Warren Buffett – what about you?
Finally, it is even a cost-effective way allowing the saving of printing expenses and, as importantly, helping our environment. I prefer getting shareholder reports in electronic format because it allows me to search through the document using the search function. That much faster than having to look through a thick printed document.
Bottom LineOf course, my esteemed social media colleagues and friends will point out several things that might not make Intel's approach perfect. One being that a blog communicating with shareholders about the annual report and other key financial figures is missing.
As well, Intel has not succeeded in getting the conversation with its investors going… but please, it is a FIRST for Intel. Moreover, after watching about 200 companies bodging the SEC's default electronic delivery process for e-proxy materials – Intel just shines. As well, this is a critical step in the right direction for investors and regulators alike.
I am looking forward to 2009-04-02 when Intel will release its financial data for next year. Intel will likely show us again that blazing down the social media trail can do wonders for improving investor relations. Keep up the good work.