2008 Democratic Primary in the U.S. – great case study for successful micro-blogging on Twitter by WCNC newsroom.
BELOW is a collection of questions we have been asked more than once.
The answers can help everyone getting up to speed on these issues, supporting clients or, most importantly, convincing one's boss about the importance of social media.

Feel free to pass these around
Below we start with a series of some questions or FAQs. The ones have just come recently again regarding why anyone would want to use Twitter at this time for corporate purposes. We call this FAQ – the Ropes to Skip and hope that the answers help you. So please read on and yes, this series will continue.
A Should we use Twitter?
As most of you know, I am currently in Europe, Switzerland mostly hanging out in Zurich where my clients are and when I want to get real work done in our outpost office in Bosco Gurin. Not many people in Bosco Gurin use Twitter, maybe I am the first. Nevertheless, I remember the LA Times writing in its New Year's Eve edition in 1994 that 1995 would be the year, where every professional would get at least a corporate if not private e-mail address as well. It took a few years more for Europe to follow but follow we did.
In 2004, bloggers were considered early adopters (we began in 2000). Nevertheless, most c-level executives do neither read nor write for a blog. In Europe, it is still a rarity to see your CEO blog. Maybe yours just started this year.
As well, most of today's Twitter users are early adopters and plenty of these hang out in California and not in the Swiss mountains.
Are your corporate clients already using Twitter? Likely most may not even have heard of it. However, I managed to convince a few to sign up to our Twitter feed
I consider this a success, since one of my business partners has not joined himself so far.
Mistake 1 – let us wait: To mark your territory and get people to sign up for your feed is the way you should go. As with every innovation, when everybody does it is difficult to stand out.
Yes, it means investing time and taking a risk. However, business is all about taking calculated risks, is it not?
B How should we offer our Twitter content?
Most of you are Twitter early adopters. Similar to you probably having had an e-mail address for private purposes by 1995 for sure, you may have started blogging by 2006 or earlier even. However, Twitter will not be widely used before mid-2009 in North American and 2010 in Europe for sure.
Hence, now is the time to get your feet wet and see how it works.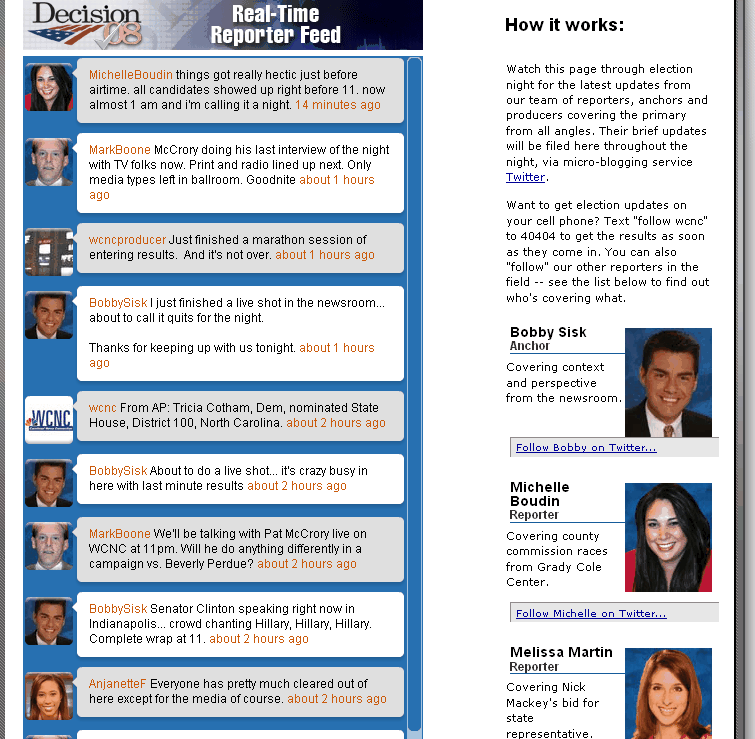 This is exactly what the news team at WSNC did last night during the North Carolina Democratic Primary (Obama beats Clinton):
Getting a better view of the image to the left
An example of how the reporters were using Twitter to update political activity. It is a great case for two reasons:
1) they still are unsure how to use it (e.g., telling us they are going on the air – who cares), and
2) providing followers with great URLs to view updates online for the results.
The image above shows you all tweets from the various journalists as shown on the webpage of the news team of WCNC.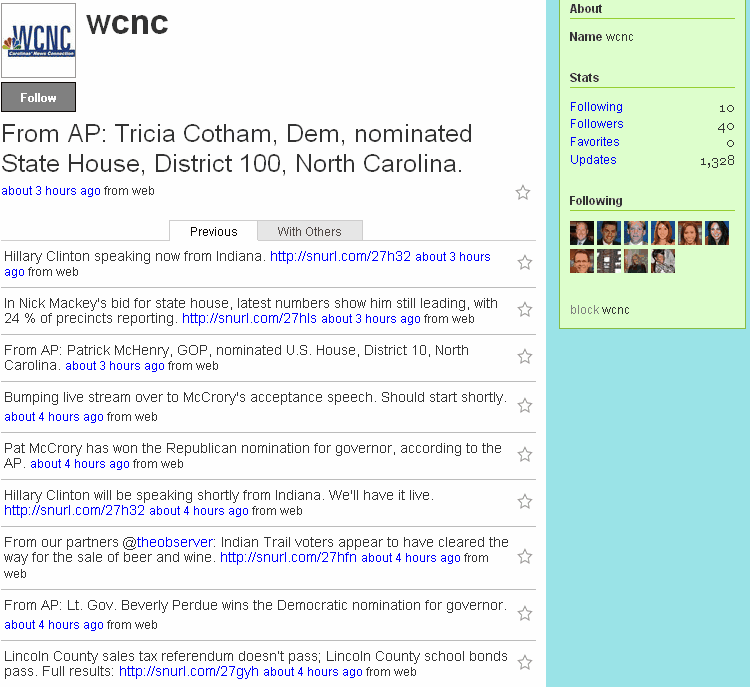 As the image to the right illustrates, the moderated WCNC Twitter feed for last night's events leaves out most of the chatter. Instead, it provides users with interesting hyperlinks and real updates. An example is a tweet telling followers/subscribers whom voters elected for which district.
Getting a better view of the image to the right
Mistake 2 – NOT moderating the aggregate Twitter feed: Provide your followers with a moderated feed (see to the right).
Excluding all the chaff (see upper left image) from various staff members saves time. As well, telling people: "I am going on the air now" is not helpful when using a medium that reaches around the globe. Not everybody can watch you on the tube.
C Are the numbers of followers worth the investment?
It is obvious that either you or a c-level executive will have to start using Twitter so your firm has a feed. Naturally, this takes time but in Europe, you should consider the fact that sending and receiving SMS on one's mobile has become second nature for most people less than 40 years of age.
Twitter is great because one can use it via one's mobile. Do not forget that most people write and receive a few SMS messages each working day when travelling to and from work using public transport. In turn, it is just a matter of time until Europe's mobile generation will take to micro-blogging (that is what Twitter is all about) like a fish to the water.
In addition, yes, it could be that the micro-blogging tool used in Europe will not be Twitter and might differ across countries and different languages. The same has already happened with social networks where Facebook just fails to get enough traction in some places:
Different social network services are popular in different countries
In addition, during the 2008 Democratic Primary in North Carolina yesterday, a newsworthy event, WCNC's Twitter feed had 40 people following (see below for the statistics)
Every start is difficult and our journey to success takes time.
Ultimately, if you have 40 followers and 10 of these are those clients accounting for 30% or more of your turnover, it might just be the smartest investment you have made for 2008.
Mistake 3 – focusing on absolute number of followers: While more is nice, most important is to have those follow your tweets that help you do better with your business.
As well, it is important to have those that follow you, actually read your tweets. In turn, you send too many each day, how are people supposed to keep up? ==> Hence send tweets sparingly and make sure each makes an impact – provide value – such as link to White Paper – that is what gets your customer's attention.
Today I have just about 40 followers myself. However, two are important clients and one signed a contract recently.
Twitter gave me the opportunity to earn enough trust with this client (yes she read my tweets very carefully apparently) to make her sign.
Bottom Line
The above shows you three mistakes that you can avoid making. Moreover, yes, it is better to start today and build a following, instead of waiting until tomorrow. Those that begin early have a head start.
Remember, Rome was not built in one day; neither will your Twitter feed just take a week to have a huge following. Give yourself a year to reap the rewards.
We continue with this series weekly, so stay tuned.
Hope this is helpful. If you have other points, lessons or ideas to share, please leave a comment below.