For some it is traffic for others it is getting their friends to read what they write on their blogs.

For me it is being able to grasp what the company's products are about and how we can maintain our competitive edge.Writing a blog does help with this challenge. Accordingly, getting more traffic is a nice side-effect but not vital for us but talking to customers and having them read the content we provide is the key.

Below I explain a bit more about our strategy with examples from the blogosphere to illustrate things better.
For some people traffic is critical to secure the revenues and click through rates to rake in the commissions from their sales affiliate program(s). If you write for your friends you may have a different motive and if you run a consulting office….
Hence, whenever I read about getting more traffic to a blog or increasing the number of links I start to wonder. If we all increase the numbers, will anybody care and read it. To illustrate, recently I had one person send out a link referring his followers on Twitter to one of my posts – one that has been getting more than the usual amount of traffic for sure.

If you cannot see the image to the left, Twitter – do any of YOUR followers care about what you broadcast? NOT
This post SocioTwitting – developing metrics for Twitter volume vs. Twitter influence got more traffic much faster than any other story so far since we started in mid-January with this domain and blog. Hence, this 'referral' on Twitter by somebody and others got me curious about traffic.
Four clicks in about 12 hours the above referral got me. Therefore, I went, checked, and discovered that Damon offers interesting fare including URLs that provide more in-depth material worth reading and much more. However, even getting a kind of 'endorsement' from a person of Dacort's caliber (he mini-blogged about this story as well)or Damon's for that matter is no guarantee that one of their followers will click on a URL either one of them mini-blogged about on Twitter.
Why should one talk about traffic?
What triggered all this? Well in a recent post Louis Gray (in-midst him getting the house ready for the twins that will arrive soon – naturally, by birth I mean) pointed out that we should be far more open about our traffic statistics than we tend to be (check out his post, very interesting).
Therefore, we thought we share our data with you. Just to give you some baseline information, we started posting on this blog (Commetrics.com) around 2008-01-16 this year.
Until late April, Google had not even given us a PageRank. Then Google assigned us a PageRank of four. The server statistics we collected are shown below.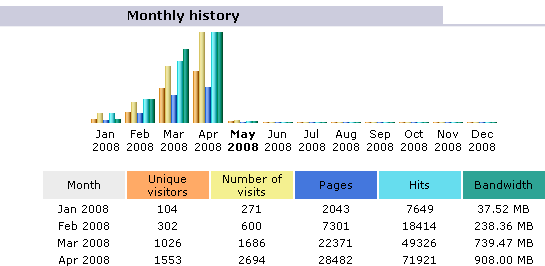 Trouble seeing the above, click here:
2008-01-17 – 2008-04-30 – ComMetrics traffic statistics at a glanceYou have to look at the above keeping in mind, some expert suggest that a mid-size blog has about 30,000 unique visitors each month. Naturally, some may have such kind of traffic each day.
So I thought it somewhat amusing when I had the opportunity to read a series of posts on ProBlogger regarding building traffic and not getting an inferiority complex in the process.
A Remedy for Blogger Inferiority Complex
No, we do not have such a complex even if our traffic is very small compared to ProBlogger, of course. Have a look at the post from ProBlogger, it is worth reading indeed.
Twitter, Facebook and your blog – if it is not traffic, what is it?
For many sites, ad revenues are important. Others have associate programs or are part of one, such as offered by Amazon. These sites or blogs may make a substantial part of their revenue by having many visitors click on their ads or use their affiliate program to make a purchase online.
In contrast, most micro enterprises or small businesses are not trying to get create revenue from advertising or affiliate sales. Instead, for my company it is all about creating trust and getting clients to read the content I write.
Our experience with traffic and social media as described above is one case that shows that Twitter, Friendfeed and other social media may not be the only answer to growing your traffic. Naturally, posting interesting fare does help quite a bit.
Google, Digg.com and Twitter: Why such Drive-By Traffic is of Little Value
In addition, Paris was not built in one day either, neither will your blog have thousands of readers including subscribers to your e-mail and/or RSS feed in one month or so.
Bottom LineBlogs can be a good way to show others that whilst one might be Going Solo, one can offer tremendous value for money as Kami Huyse a public relations expert shows us so well:
2008-05-01 – Kami Huyse – The Three Principles of Change to Live By: Learn, Mentor, Give
Kami always writes about her business, experience with clients and things she is discovering on her journey. While not being a client of hers, I have learned a few things from reading her blog for sure. Thank you Kami.
Others impress me with their Google PageRank of seven. For instance, David Bradley gets much traffic as an independent journalist and public relations expert including some geeky stuff. All that traffic can be attributed to material he posts that is closely linked to his work:
Hot science news by David Bradley
Find out what is important to you. Is it traffic, advertising revenue, referrals, participation and/or building trust with your clients.
It all means that you must take the time to secure the readership you need to stay ahead of your competition. Talk to your customers – other traffic is just icing on the cake.
Tidbits
I discovered as well that during weekends most blog posts get traffic from outside Europe only. Hence, Europeans and my customers in particular tend to take off from the Internet and social media during weekends. Good for them, I hope they have time to read this tomorrow
What is your experience with your blog or social media strategy; please share your thoughts with a comment below.