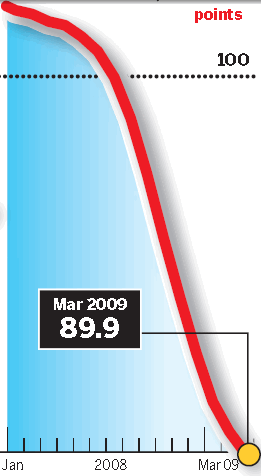 The global downturn may have bottomed out, but shrinking advertising revenue has forced newspapers to tighten their belts:
– New York Times: 1,300 editorial staff, 54 percent of revenue from advertising, big losses in Q1 of 2009
– Financial Times: 550 editorial staff, faltering advertising in Q1 of 2009
– Tages Anzeiger: 177 editorial staff after May 2009 cuts of 50 full-time editorial positions
All newspapers are feeling the pain, most due to lower spending on real estate, automotive, help-wanted and movie or theatre ads. Will this trend continue and will ever more newspapers be filing for bankruptcy?
Things change
When I was growing up, my parents read the Neue Zürcher Zeitung (Mon – Sat, three editions daily!) and the local Anzeiger des Bezirkes Horgen (thrice weekly). As a young adult in Los Angeles, there was the Los Angeles Times (daily), the Progress Bulletin (daily), the Daily Report (daily) and the Claremont Courier (twice weekly). Today, the LA Times is under bankruptcy protection, the Anzeiger des Bezirkes Horgen is part of a larger group, the Daily Report and the Progress Bulletin have merged to become the Inland Valley Daily Bulletin, and the Neue Zürcher Zeitung only publishes once a day.
Trend 1: The overall market size of paying newspaper subscribers continues to shrink – fewer people are willing to take the time to read a newspaper and even fewer (especially the young) will part with their hard-earned cash for this service.
The allure of a zero
Many cities are 'blessed' with a free daily that is distributed at railway stations or other high-traffic public places.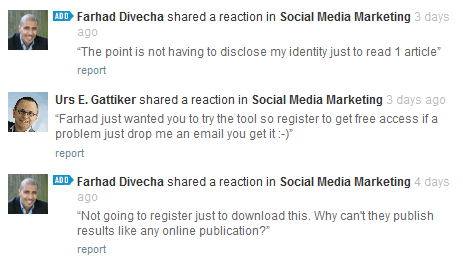 We ourselves have experienced that even additional intelligence and analysis does not make some people (see image at right) willing to register in order to download content for free.
Trend 2: Resistance to paying for news in print or online is increasing, in part because it is already available for 'free' somewhere else.
Of course, this does not address quality or depth of reporting and insights provided through 'free' news vs. paid content. Nevertheless, 'free' is so popular that quality concerns seem too small to sway many to paying for content.
Watch the trends
To make matters even more complicated, it is becoming more difficult to easily assess whether paid content really is better than 'free' content. In part, this is the fault of newspapers themselves. For instance, newspapers increasingly publish supplements that carry little editorial content but much glossy advertising (e.g., How to Spend It from the Financial Times).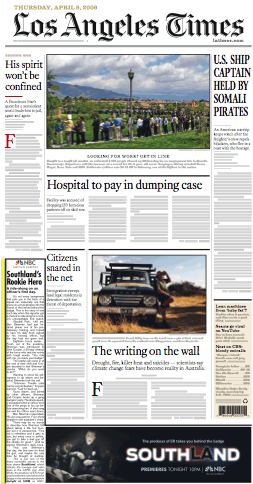 A similar problem is illustrated by the LA Times, which decided to provide ad space on the front page for a fake news story (see yellow highlighted story in image at left).
Such and other developments mean making a distinction between quality editorial and paid content ever tougher for subscribers. As a result, reluctance to pay for anything is growing.
Unfortunately, publishing a digital version of the newspaper does not appear to be the answer to decreasing subscriptions and lower advertising rates for the printed version of the paper. For instance, a monthly Kindle subscription for the Financial Times is $9.99, plus tax in the US. Rumour has it that Amazon wants 70 percent of such subscription revenue and the right to republish the newspaper's stories on other portable devices. Making a mere $25 from an annual digital subscription as the content provider leaves something to be desired from a capitalist's point of view.
Multi-platform distribution (e.g., using video, digital and print channels) is here to stay, but it will not stop media houses' revenue-erosion. Worst is that not only did print advertising drop, but online advertising growth seems to have slowed as well in the first quarter of 2009.
Trend 3: Newspapers are becoming ever more dependent on different revenue streams, making the protection of news content from advertising interference a growing challenge.
Bottom line
A viable strategy for stopping the revenue-erosion for news providers requires addressing two key issues:
1) using content across platforms: a two-hour interview with an expert can result in different content for different platforms – besides publishing the interview in print, it can also be made available as video (in part or complete) and/or an edited version can be made available to subscribers as a free podcast; and,
2) finding different revenue streams: a newspaper can explore different ways to generate revenue in addition to advertising, such as delegate fees collected for attending workshops, conferences, cultural events, etc. as organized and promoted by the newspaper.
The above indicates that a shrinking market with ever greater competition requires innovative use of high quality content. Most importantly, the latter helps in distinguishing oneself from the free sheets that may re-print corporate press releases or syndicated stories as delivered to them by such services as Bloomberg or Reuters. Survival of the fittest in a shrinking market for paid content requires savvy and innovative use of both technology and content to produce a desirable product for the niche market of consumers who are willing to pay for what they get.
Also of interest: results from the 2009 FT ComMetrics Blog Index.