Social media monitoring DOs and DON'Ts: social media marketing, social media metrics, social media monitoring tools, benchmark test, Twitter monitoring, luxury branding and other happenings we came across while surfing the Internet, blogging and posting on Facebook, Identi.ca, Google Buzz, or Twitter.
If you have not already done so, you may want to take a look at previous posts in our series about social media marketing and social media monitoring:
In this post I share some interesting things I learned about consumer behaviors online, in particular, watching online videos and how they affect our reactions to social media marketing.
It all started with a report from Nielsen that said,
This is very interesting, but it also raises some issues surrounding increasing video use, especially by companies using them to provide customers with instructional videos, testimonials and so forth about their products.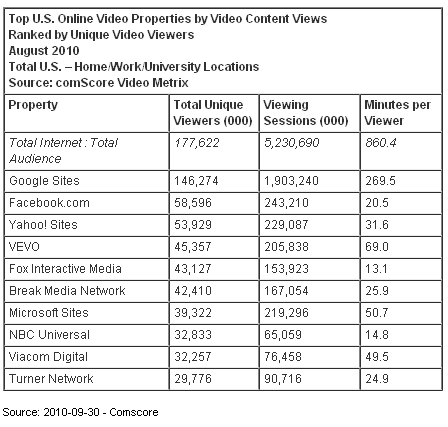 More organizations are using videos to reach customers. Often, these videos provide explanations and illustrations for using the product in different contexts. In turn, this helps further clarify the product's usability and usefulness for the consumer.
Obviously, a 3-minute video can do wonders in helping people grasp a concept or idea and, in return, take better advantage of the product (see Friday).
As the ComScore study shows, Americans watched 3.8 billion video ads in August, but another study indicates that Europeans are less engaged when watching video, dropping off after an average of 30 seconds (study based on a cross-section of Brightcove customers representing media industry verticals – not necessarily your average consumer).
Get the full white paper – just posted: 2010-09-13 Online video & the media industry. Quarterly research report, Q2 2010 by Brightcove & Tubemogul
Friday – the trend for webinars
Videos everywhere are getting shorter every day… Remember the entertaining 107-second Roger Federer video? Even educational videos are getting shorter.
Unfortunately, as Tom Drews suggests in his latest eBooklet on how to design and deliver effective virtual sales presentations, this means a much tighter structure. The book has plenty of nuggets but you have to dig for them, and most importantly, it is not always clear if the images used really meet the criteria – unless the picture says more than a thousand words, don't use it.
This video shows why Tom's book is a gem and what I got out of it.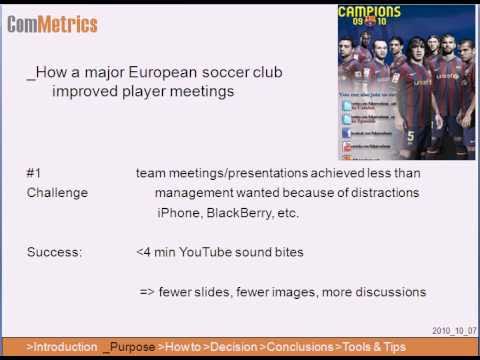 The challenge is to get your message about your drill, furniture, university class, or other subject across in a very short video.  The more complex the topic, the harder it gets to keep European viewers engaged – but teaching calculus in 30-second YoutTube bites is hard. I am still working on it, so if you have managed, please let me know!
Watch out for our upcoming post (2010-12-15) called YouTube trends 2011: Teaching college math in 30 seconds or less
Ever thought about adding a contact form to your company's page on Facebook? I just did it, but there are a few things you need to do, including adding the FBML option.
Don't worry, it's easy: just follow the step-by-step instructions to add a contact form with Jot form. Yes, it may take you 10 minutes and a bit of testing to see whether you like the email you get whenever someone fills out the form, but it's well worth it.
By the way, you can incorporate several FBML boxes on your company's Facebook page. Have a look:
One last thing: unfortunately, a few options like Captcha to prevent spamming (under Power Tools on JotForm site) and hover text (mouse over section in form, more explanations can be added) do not seem work on Facebook. But the form is great.
How do you feel about these developments? What strategies work for you and your business when it comes to doing online videos – for fun, instructional or other purposes?
Please share your thoughts by leaving a comment below!