Social media, social networking and blogging are not just new tools; they are part of the revolution in marketing that started some twenty years ago when the internet became mass market.
This article clarifies how social media tools and channels such as Twitter, Facebook and LinkedIn can make a real difference if used correctly and what this means for you.
Power shift
The internet provides massive amounts of information, leading to a power shift from seller to buyer.
In the early days, providing search engines with the right keywords was essential to finding anything, but people soon tired of the 'sales dish'. Instead, they sought independent information and reviews, leading to the growth of article and review sites, some of which have transformed themselves into blogs.
This means we now have a growing body of people who use the internet to inform their purchasing decisions, so businesses must learn more about those customers' purchasing challenges.
Buyers have never been so well-informed, because information is only a few clicks away. Great! But, this causes a huge dilemma for sellers, who aren't used to being challenged.
We now have:
– knowledgeable buyers,
– buyers who don't respond to 'We are the Best' messages, and
– buyers who ask questions about how a product or service compares to competitors
This means, sellers have some options, such as:
Ignore the revolution. There are plenty of people who do not fully use the internet and never will. They are likely to be older, and therefore decreasing in numbers and economic clout.

Dabble in social media. This is about migrating from offline to online. For example, sales brochures become blog posts, while tweets are about forthcoming sales or special offers. It's more about continuing as before with these new tools, which is fine for the new internet user. Numbers of people who haven't really used the internet to educate themselves are also shrinking, given the time personal computing has been around.

Learn to master. Recognize that buyers will educate themselves before buying, so to grow, be where prospective buyers are. Speak their language at a pace that suits them.

Take the lead. Accept that the buyer is king and uses the internet and social media to engage on their terms. This isn't about having a string of tweets cascade into all the other social networking sites that accept Twitter. It's about understanding how prospective buyers want to engage with you and using the appropriate channels to do that.

From my perspective, this is where sellers are in relation to buyers (see graph at right), though I welcome different perspectives. There is a huge opportunity gap for sellers to learn how to use social media and become leaders in their market. Since social media is about conversation and networking, the viral element can help any seller gain leadership.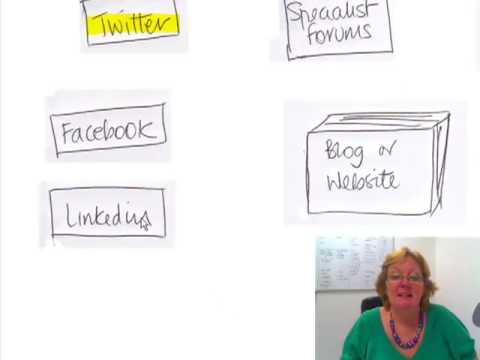 Here are three social networking examples of effective social media use:
1. Facebook Fan Page
Give your buyers and prospects a place to comment and ask questions during a teleseminar, conference or even respond to consultation documents. Yes, it's a public space but not all the material needs to be divulged. After all, it's about conversing with people who have said they are interested in you and your position.
Connect on Facebook with ComMetrics and MaxWeb.

2. Twitter
There are lots of ways to use this tool, such as giving information on topics you know interest your market. If your buyers are Human Resources managers, then information on employment law, payroll and employee engagement would be of interest regardless of what you are offering. Ask for comments on your blog posts and respond to mentions. If people have taken the trouble to send you a message, acknowledge them just as you would in the 'real world'.
Choose from the 100 best Twitter tools.

3. LinkedIn
Join appropriate groups or learn what makes a good group and start your own. Good groups have discussions where people learn more about each other and relationships are fostered. The opportunities are endless. Wander in to LinkedIn's Answers section and answer a few questions; this builds credibility with a large audience. Finally, have a complete profile, so people can see who you are and what you do.
New to LinkedIn – How to Use LinkedIn video.
Time management – 3 golden rules for best practice: Xing and LinkedIn.
And remember that any social media activity can be used in conjunction with your continuing offline marketing.
Pull beats push
Sellers have been pushing messages for the past 50 years, but this has lost some of its effect. There are big changes afoot, as evidenced by the diminishing circulation of printed newspapers, the fortunes of commercial TV stations and the move from print media to online.
People are no longer willing to be fed information and have message pushed at them.
The day of attracting people with good content is upon us. Those who seize the day now are likely to have a sustainable advantage in their marketplace, just like those who had a website in the early 1990s.
For push-adverse buyers, sellers have to adopt a passive method of enticement. One way is to make better use of Lead Magnets on your website and blog, though they have yet to gain their rightful place in the marketing mix. Make sure you use them to continue the conversation.
Bottom line
Buyers are more powerful now and this will continue for some time to come. If you want your marketing to be effective, take the time to understand what social media offers. Used in conjunction with traditional marketing, it will catapult your firm to market-leader in your field.
Please, leave a comment! We love to hear your thoughts: how do you feel about Twitter, Facebook and LinkedIn and your business? What is your experience with this subject? Have any tips to make sure we use social media more effectively? Please share your insights.
P.S. – Visit My.ComMetrics (register yourself – benchmark your blog(s) => improve performance). You can get updates for this blog on Twitter by following @ComMetrics or get a free subscription by RSS, or get new posts via email:
Article source: ComMetrics –  Social media: What is so special?