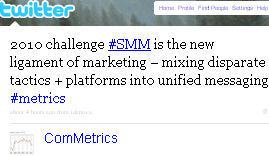 Every week we tweet about a lot of fascinating stuff, highlighting great content that is of interest to social media folks and corporate bloggers. This weekly compilation provides you with our top tweets for the previous seven days.
Our top stories include Facebook's privacy policy changes and why EFF thinks it is not good enough for you, why successful crowdsourcing is unlikely, and why you should distrust all tools that claim they measure social media ROI. Plus, check out some free Twitter, Bit.ly and World Bank tools, and more to better manage your brand on social networks.
In case you missed the last three weeks' best links:
ComMetrics weekly review: eBookers to Twitter via Google for week 47.
ComMetrics weekly review: ROI to porn via Facebook for week 48.
ComMetrics weekly review: HotWired to Ford via ROI for week 49
Don't miss the upcoming week! Sign up with your email right now to get it first:
If you are a #Xing (Europe's LinkedIn) member: Recently, we launched the Social Media Monitoring group.Your personal invitation is here (insights, heated discussions, latest measurement trends – if you must know then you have to join).
Also, if you are on Facebook, please join:
FREE tools, code for Twitter, blogs and Facebook: Tips and tricks
#Tools VERY USEFUL – data visualization – World Bank #metrics
RT @DeeptiAtrish 20 Free Social Media Icon Sets For Bloggers | Freebies | instantShift
#Privacy add + sign after any Bit.ly URL – see person's stats & more. Example: http://bit.ly/7SbQ4x+ #tools #metrics #SMM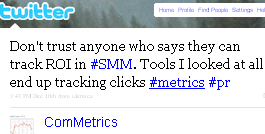 Benchmark social media – best practice
#things2read – Budgeting for Social Media (SM): Cost-benefit analysis vs. ROI
@FalkEvent Liebe Anita Gratuliere zum Bergfalke.com Blog. Bin gespannt auf die weiteren Beitraege die da kommen werden #outdoor #wintersport #klettern
We'd like to ask all our followers to become our fans on Facebook. Apparently all the cool kids are doing it.
B2B – Luxury labels and manufacturing
VERY USEFUL 90 percent of US women use social networks: strong driver of purchase behavior #SMM #metrics #PR
1. Successful #crowdsourcing requires a specific call to action and, 2 understanding motivation of participants
2. Successful #crowdsourcing => investigating MPs expense claims in UK #crisis #metrics
#things2read – Crowd-wisdom fails businesses #innovation #SMM #brand #innovation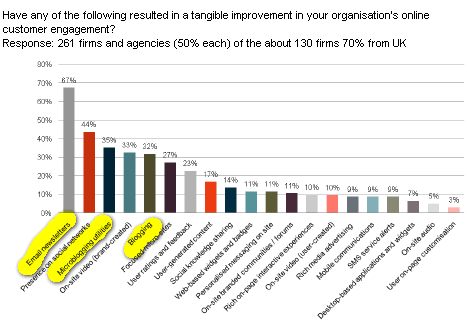 White papers – trendwatch
Asking (see graphic at right), did these choices lead to better customer engagement? What does the data tell you? That these guys feel it worked, but is this wishful thinking or based on hard facts? #metrics #SMM #pr
Better customer engagement – See more graphics from White Paper by DOWNLOADING from #Facebook and/or #Xing #metrics #SMM #pr
Social Media – information security, privacy
RT @InfoSec Facebook's New Privacy Changes: The Good, The Bad, and The Ugly | Electronic Frontier Foundation: #threats2watch
Cases – failures – how NOT to do it – Social Media 101
#iPhone not a #trademark in Switzerland – Apple has a 1:10 chance of winning an appeal before Switzerland's highest court – we'll know December 20 – download court's decision in German as pdf #propertyrights
What did we miss this week? Please add your tweet about what we missed in a comment below. Thank you.
Interested? You should follow us on Twitter.