When you sit on a plane, things can pretty scary as this example shows. For 130 passengers, their Lufthansa A320 flight from Munich to Fuhlsbuettel Airport in Hamburg last Saturday could have ended in disaster.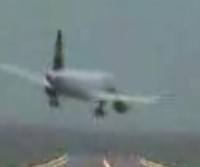 The powerful winter storm system called EMMA caused 90 kilometer-per-hour crosswinds on one of the runway's at the Hamburg airport. After skidding dramatically across the runway in an aborted landing, the plane's pilot opted to take off once again.
Cannot see the image get it here: the near disaster – horror landing for these passengers
Of course, some people will ask if the pilot was a hero or a fool. As well, investigators will have to find out if the mistake was the pilots or if the air-traffic controllers should not have shut down the runway earlier. Right after this near crash, the runway was shut down by air-traffic control in Hamburg.
Nonetheless, the video communicates very nicely that while technology did a great job in helping the pilots prevent disaster, it is people that make the final decision – land and crash or else abort and try again. In this case, the pilot decided to try again.
Using a different runway, the flight landed safely about 10 minutes later. Watch the video here:
some experts claim the attempted landing was more dramatic than any incident in German domestic aviation history – watch video HERE
Just imagine having had a window seat and being on that plane – a really scary thought.
But the video also demonstrates that some things can be communicated much better with a visual image than using words.
Tidbit
Monday it was annouced that EADS won over Boeing in the fierce competition to supply inflight refuelling tankers to the US air force – the A330-200. Could hardly be better designed to restore confidence and fortunes of the battered Franco-German group if it had been engineered by President Sarkozy instead of Robert Gates' team at the Pentagon.60% of the aircraft will be made in America. The contract including maintenance work is worth about US $35bn.