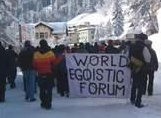 Imagine you turn on the evening news and hear the following report:
"According to some sources, World Economic Forum (WEF) participants will have to meet in ice cold conference rooms because the current gas dispute between Russia and Ukraine has dried up Swiss supplies.
Complicating the situation, Swiss police clashed with demonstrators outside the conference venue in Davos yesterday amid rising political and social tensions over continued energy shortages.
Meanwhile, European Commission president Manuel Barroso once again warned anyone who cared to listen, both in the hallways and during sessions, that unless they allow gas flows to resume, Moscow and Kiev can no longer be considered reliable energy suppliers to the EU."
While the above is just an imaginary scenario, the fact is that freezing weather across Europe, with some countries suffering their coldest temperatures for decades, has resulted in gas stores being close to or completely used up in several countries, including Belgium, Bulgaria, Croatia and Denmark.
Another fact is that 24.9 per cent of the EU's energy consumption is served by natural gas. In 2007, it was estimated that Europe imported 346.3 billion m3 of natural gas, of which: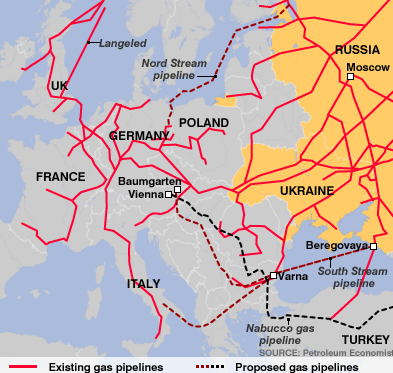 – 86.0 billion m3 (24.83 per cent) were supplied by Norway,
– 51.9 billion m3 (14.99 per cent) of Liquified Natural Gas (LNG) came by ship,
– 32.7 billion m3 ( 9.44 per cent excluding LNG) was delivered by Algeria,
– 28.2 billion m3 ( 8.14 per cent) came from most of the rest of world, AND
– 147.5 billion m3 (42.59 per cent) was supplied by Russia
This means that, based on 2007 data, Russia supplies 10.6 per cent of the European Union's total energy needs, surely a dependency that should be reevaluated.
On Tuesday, January 13 Russian gas company Gazprom said it was unable to meet its legal commitments to supply European countries with gas because the Ukraine was allegedly blocking gas flow across its territory. This twist in the dispute made a mockery of the EU-mediated agreement.
Options for improving Europe's energy security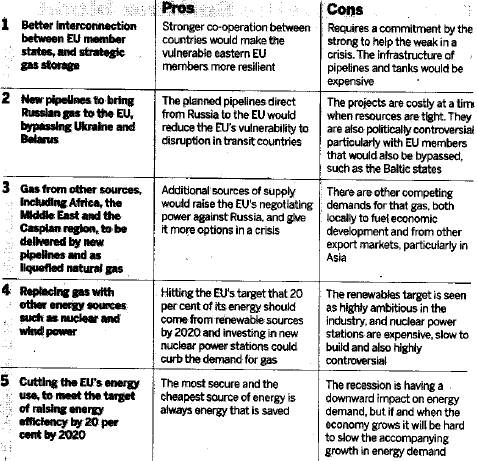 As the list above shows (Financial Times 2009-01-15, World News, p. 2 in printed edition), Europe does not really have the choice of switching supplies away from Russia. It could reduce energy consumption but we know how successful these efforts have been so far. Nevertheless, the Ukraine versus Russia gas dispute shows how vulnerable we are and why we cannot trust either party to keep our best interests in mind.
Bottom line
Russia and the European Union both have compelling incentives to back pipeline routes that skirt around the Ukraine. The latter needs the US$2 billion a year in transit fees. Three years after the first Ukrainian gas shut-off, the EU has made limited progress in diversifying energy sources. The issue remains: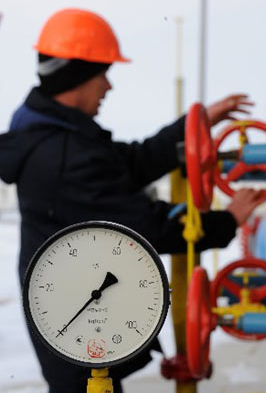 1. What price should the Ukraine pay for gas in 2009? Gazprom suggests a price jump from US$179.50 to US$418 per 1000 m3, and
2. How much does the Ukraine owe Russia for past gas shipments that it has not paid for?
In the past, the Ukraine's price has been indirectly subsidized by European consumers. Gazprom's proposal of a 50 per cent discount compared to European prices was turned down. Also, the offer of counting the gas debts of 2008 towards a prepayment for transportation expenses for gas intended for European consumers was not accepted by the Ukraine.
In all this RosUkrEnergo in Zug, Switzerland, jointly owned by Gazprom and two Ukrainian oligarchs, including Dmitry Firtash, plays an opaque role. With profits of nearly €610 million after taxes, RosUkrEnergo sells gas to the Ukraine while cross-subsidising these sales by charging European consumers a much higher price, as one of its board members publicly confirmed on a Swiss news show. However, without more transparency it is impossible to understand how the trade is structured, who controls what of the energy flow and which oligarchs and organizations reap the lucrative benefits.
Open letter to Gazprom CEO Alexej Miller from Global Witness & commentary in Financial Times 2009-01-16
UPDATE 2009-01-18
Russia and Ukraine said that a resumption of gas supplies to Europe was imminent. For the first time, Russia will charge Ukraine European-level gas prices in 2009, but will offer a 20 per cent discount if Ukraine maintains last year's favorable gas transit fees. Still, a few issues appear unresolved. For instance, Russian television reported that Ukraine would pay double last year's price of US$179.50 or US$359 per 1000 m3 of gas. This was contradicted by Ukrainian estimates, which put the new price at less than the $250 per 1000 m3 proposed by Gazprom in a proposed settlement on December 31.
UPDATE 2009-01-20
Russian gas has resumed flowing across Europe. The Ukraine is expected to pay an average price below $250 per 1000 m3 for Russian gas during 2009. Prices will fluctuate according to a European formula pegged to world oil prices. European gas prices are expected to average $280 per 1000 m3 this year. In 2010, Ukrainian and European gas prices will converge. Ukrainian pipelines carry 80 per cent of Gazprom's gas exports to Europe.
Ultimately, the Ukraine has to pay the market price; surely it cannot be considered just and fair to expect European consumers to cross-subsidise the price the Ukraine is charged for gas. Gazprom will increase the fees it pays for use of the Ukrainian pipelines to market levels in 2010. Finally, we cannot continue accepting that RosUkrEnergo and its shareholders avoid any scrutiny, including that they chronically fail to follow good corporate governance guidelines.
P.S. In case you forgot, the byline for this year's World Economic Forum in Davos-Klosters is "Shaping the Post-Crisis World". While the gas crisis will hopefully be resolved by the meeting's opening on Wednesday, January 28, a lot of work still needs to be done. For instance, Russian president Dmitry Medvedef called for a "new international mechanism" to govern Russia's gas trade with Europe and said Moscow would never ratify the European energy charter. The latter aims to encourage competition and enforce the rule of law in energy trade. Hence, security of Europe's gas supply is still low and neither Russia nor the Ukraine instill much trust when it comes to being dependable partners.
Eating caviar with some Russian oligarchs while having interesting fireplace chats in Davos is nice. Unfortunately it will not heat the houses in Sarajevo or Sofia. Much talk, big words and little, if any action in the ongoing war of words is likely all we will get from Davos this year on most international issues, such as the gas crisis and the latest war in Gaza. Incidentally, political leaders such as Vladimir Putin will surely try to extract political advantage from the gas dispute and the media exposure they are certain to get while attending the World Economic Forum.
P.P.S. Read about our assessment of WEF Davos' social media efforts in an upcoming post; register for free delivery via e-mail and find out more about how the World Economic Forum uses the Davos brand for its Twitter feed. Don't miss it! And yes, various groups have applied for a permit to demonstrate in Davos while the whole area is a no-fly security zone, as shown on this Twitter background image.
=========>
Here's what I'm suggesting for today. What is your take; any gas shortages in your neighborhood? How can this problem be resolved now and security of supplies be improved for 2010? Any suggestions for how World Economic Forum participants could best contribute?
Please provide your thoughts and insights, we would love to hear from you. Thanks.
=========>